NipCA Project Newsletter "Central Asia and Japan" Vol. 3 was published. Please download the PDF from the link below.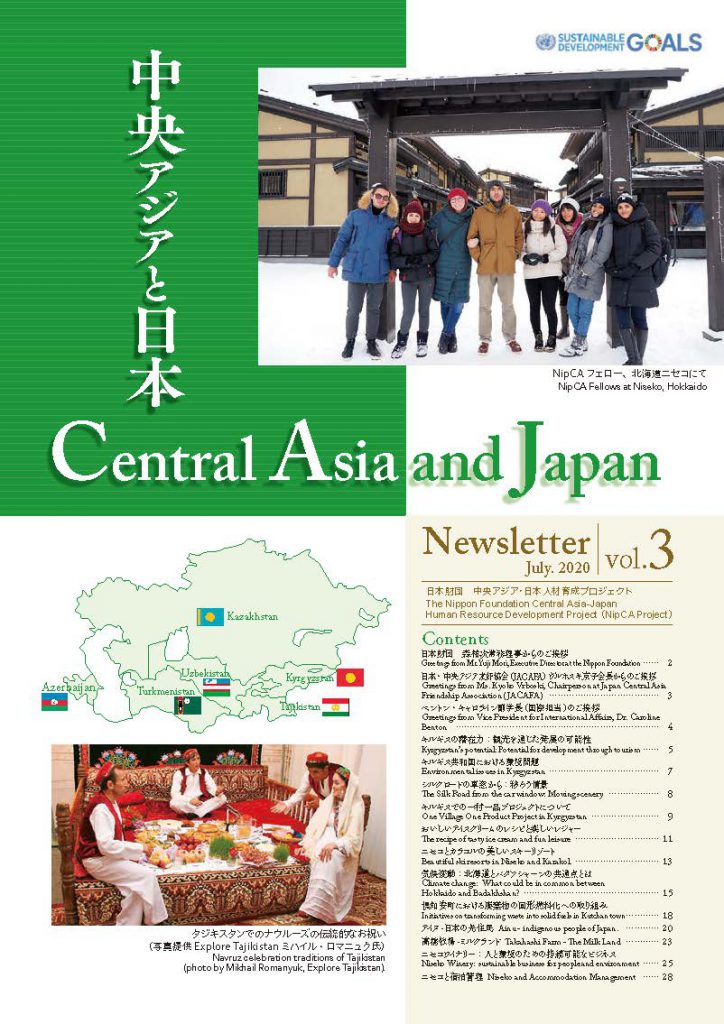 Contents
p.02 Greetings from Mr. Yuji Mori, Executive Director at the Nippon Foundation
p.03 Greetings from Ms. Kyoko Vrboski, Chairperson at Japan Central Asia Friendship Association (JACAFA)
p.04 Greetings from Vice President for International Affairs, Dr. Caroline Benton
p.05 Kyrgyzstan's potential: Potential for development through tourism
p.07 Environmental issues in Kyrgyzstan
p.08 The Silk Road from the car window: Moving scenery
p.09 One Village One Product Project in Kyrgyzstan
p.11 The recipe of tasty ice cream and fun leisure
p.13 Beautiful ski resorts in Niseko and Karakol
p.15 Climate change: What could be in common between Hokkaido and Badakhshan?
p.18 Initiatives on transforming waste into solid fuels in Kutchan town
p.20 Ainu – indigenous people of Japan
p.23 Takahashi Farm – The Milk Land
p.25 Niseko Winery: sustainable business for people and environment
p.28 Niseko and Accommodation Management