On Friday, March 12, 2009, as the 22nd lecture in the public lecture series "Central Eurasia and the Future of Japan," we welcomed Professor Kimura Goro Christoph, Department of German Studies, Faculty of Foreign Studies, Sophia University, to give a lecture For Whom is the 'Easy Language'?" -Thinking from Germany's 'Leichte Sprache'".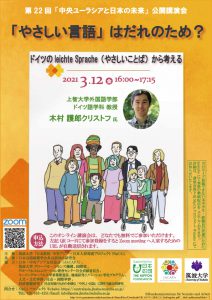 Dr. Kimura has been doing extensive research mainly on linguistic sociology, and in recent years, he has presented innovative discussions on the diversity of languages, in his books such as "The Principles of English: The Key to Internationalization and Globalization" (Yorozu Shobo, 2016) and "Towards a Multilingual Society" (Kuroshio Publishing, 2017). 
This lecture focused on comparing "Easy Japanese" with Leichte Sprache, or "Easy German." "Easy Japanese" is often used mainly for foreigners living in Japan who are often difficult to obtain information accurately in the event of an abnormal situation caused by natural disasters or infectious diseases. On the other hand, there is a big difference that "Easy German" is for people who have difficulty learning or dementia, mainly those who have social difficulties linguistically. In addition, "Easy German" also refers to the flow of human rights advocates for people with learning disabilities. Dr. Kimura also mentioned that the right to obtain appropriate information for those with learning disabilities is guaranteed, and that it is also connected to job creation by inspecting "Easy German" by those with learning disabilities themselves. During the lecture, Dr. Kimura made progress while weaving questions from the chat of the listeners into the presentation, and it was a very fruitful meeting for them. 
 This lecture scene was broadcast on Manaba from March 17, 2021- March 28, 2021.