Special Program in Japanese and Eurasian Studies (SPJES)
Application deadline: January 15, 2023, 23:59 (JST)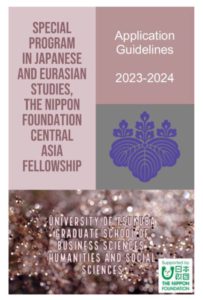 This English-language graduate program is designed to train a new generation of experts, who can actively contribute to the implementation of the Sustainable Development Goals (SDGs) in the Eurasian region (Central Asia and Azerbaijan). The program consists of a 1.5-year Master's Program and welcomes applications from the nationals of Kazakhstan, Uzbekistan, Kyrgyzstan, Turkmenistan, Tajikistan, and Azerbaijan. Those applicants who demonstrate outstanding abilities will be awarded full scholarships from the Nippon Foundation (up to 8 scholarships per year).
To download the application form and application guidelines, please visit this site from the link below.
* For details about the Special Program for Central Asia Countries (SPCEA) which holds this SPJES program, view the SPJES program here. Contact us at spca-info@ml.cc.tsukuba.ac.jp with any questions or concerns regarding the University Application Submission.