The 25th Public Lecture Series, "The Future of Central Eurasia and Japan," was held on June 18, 2021. Our guest speaker, Prof. Hisao Sekine, Dean of the Faculty of Humanities and Social Sciences at the University of Tsukuba, delivered a lecture entitled "Considering Development Issues in the Pacific Island Region from the Perspective of the Sustainable Development Goals."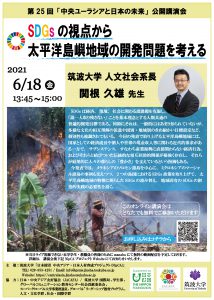 After graduating from university, Prof. Sekine worked for a private company. Later, the Japan Overseas Cooperation Volunteers (JOCV) dispatched him to the Solomon Islands in Melanesia as a youth overseas cooperation member. Since then, he has been researching the relationship between social development and local culture in Pacific island countries for many years. Prof. Sekine has a rich experience as a practitioner and teacher, and in recent years has been engaged in research on international development from the perspective of the SDGs. In this session, Dr. Sekine talked about the necessity of re-inventing and implementing the SDGs for Pacific island countries due to the region's unique conditions, focusing on the case of the Solomon Islands and the case of the Marshall Islands in Micronesia.
The region of Pacific island countries is divided into three subregions: Melanesia, Polynesia, and Micronesia. Each of these subregions has a different level of remoteness from the continent and availability of resources. Due to these conditions, countries of the region face difficulties in economic growth through economic development. According to Prof. Sekine, primary economic activities in this area include rents from sources such as:
a) overseas remittances from migrants; b) development assistance from foreign countries and international organizations; c) income from industries such as tourism and aviation; d) activities based on mutually beneficial and intimate relationships built on people's geographical and blood ties, in other words, a subsistence economy.
Using a variety of examples, Prof. Sekine discussed how to incorporate the "autonomy" orientation of controlling the future of the countries of this region and support from other countries into the re-invention of the SDGs specific to the area.
This lecture was available on the Manaba platform from June 18, 2021, to July 4, 2021.