The 26th Public Lecture of "The Future of Central Eurasia and Japan" Series took place on July 8, 2021. Two guest speakers, namely, Mr. Keita Yamamoto, Deputy Mayor of Niseko Town, and Mr. Tomoki Nakatani, a teacher at Niseko High School, gave a lecture entitled "SDGs and Multicultural Society – Niseko Town, Hokkaido, a Pioneering Attempt."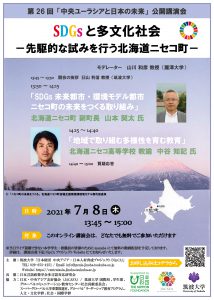 Niseko is a town within the jurisdiction of the Goshi Promotion Bureau in Hokkaido. It is famous for its beautiful mountain, Niseko Annupuri, and its ski resorts with high-quality powder snow. Regularly, the town has a population of about 5,000. However, in winter, skiers from all over the world come to enjoy Niseko's powder snow, and the population tends to increase by about 600 in winter and decrease in summer. Based on this background, the speakers talked about how Niseko Town is working to achieve the SDGs and realize a multicultural society from two perspectives: administration and education.
Mr. Qita Yamamoto, Deputy Mayor of the town, talked about the administrative aspects of the town, focusing on diversity. One of the initiatives to realize a society with diversity awareness is the Coordinators for International Relations (CIR) program. International residents fluent in Japanese live in Niseko as CIRs and participate in various activities such as reading picture books from around the world, appearing on the radio, and teaching Japanese to other international residents of Niseko.
Mr. Tomoki Nakatani gave a talk about the Global Environment Course at Niseko High School. This course is an educational program that fosters diversity in the local community. The Global Environment Course aims to nurture global human resources active in the local community and includes lectures by local global leaders such as the Community Development Cooperation Volunteers and classes with international coordinators. As a unique initiative, an example of a fourth-year high school student was discussed. Before the new coronavirus pandemic outbreak, the students trained at a hotel in Malaysia. They train at a winery in the Niseko area, where they learn various skills and attitudes, not just global awareness.
The town is not entirely free of tension between its residents and international residents. However, Niseko Town calls this "creative disagreement" and welcomes it to create an environment of mutual respect. In line with the SDGs concept of "leaving no one behind," it is evident that the people of Niseko Town are taking local issues into their own hands, discussing and acting on them regardless of their position or background. This approach to creating a diverse society left a deep impression on the audience.
This lecture was available on the Manaba platform from July 9, 2021, to July 18, 2021.