On Tuesday, January 14, 2022, the Nippon Foundation Central Asia-Japan Human Resource Development Project (NipCA) and the Special Program in Japanese and Eurasian Studies (University of Tsukuba) invited Dr. Sultanalieva Syinat to speak on the topic of women's rights activist movements in Kyrgyzstan.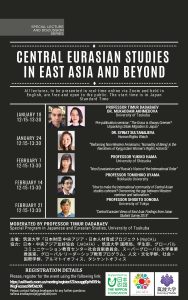 Dr. Sultanalieva received her doctoral degree from the Special Program in Japanese and Eurasian Studies at the University of Tsukuba in 2020 and currently works as a Central Asian researcher at the Human Rights Watch. Prior to joining Human Rights Watch, Dr. Sultanalieva has worked extensively on the LGBTI and sex workers' rights in Central Asia.
The session took place online via Zoom and was open to the public. The lecture was moderated by Professor Dadabaev Timur(University of Tsukuba), who started the event by introducing the Special Lecture and Discussion Series titled "Central Eurasian Studies in East Asia and Beyond". This lecture series features several events designed to highlight the most prominent findings and research studies in the field. Professor Dadabaev invited everyone to join other talks in the Lecture Series to be held in February and March.
In her presentation, Dr. Sultanalieva introduced the concept of the "nomadity of being" in an attempt to reframe non-Western feminisms and challenge existing discourses surrounding women's rights movements in Central Asia. Her book on the narratives of Kyrgyzstani women's rights activists, which is based on her doctoral thesis, will be published by Palgrave Macmillan in 2022.
During the Q&A session, Dr. Sultanalieva was asked many important questions about the theoretical foundation of her study, as well as her findings.
The lecture covered an important topic of feminism in Central Asia and presented all interested participants with an opportunity to listen to Dr. Sultanalieva's insights on the topic and ask insightful questions. The presentation was recorded and will be shared online.
The Lecture Series will continue with the next public event scheduled for February 7th at 12:15 PM (Tokyo).
This lecture series is now available on Youtube. Please visit the following channel.
Tsukuba Central Eurasian Studies
https://www.youtube.com/channel/UCtgSe6atrw84WOQTyo4iUkA/videos