On Tuesday, January 18, 2022, the Nippon Foundation Central Asia-Japan Human Resource Development Project (NipCA) and the Special Program in Japanese and Eurasian Studies (University of Tsukuba) hosted a pre-publication seminar titled "The Grass is Always Greener? Unpacking Uzbek Migration to Japan" delivered by Professor Timur Dadabaev (University of Tsukuba) and Dr. Mukaddam Akhmedova (RSI).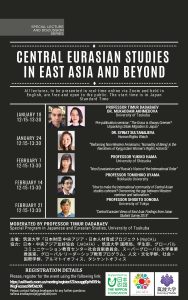 The seminar took place online via Zoom and attracted both students and researchers from the University of Tsukuba and attendees from other universities and research institutions.
Professor Dadabaev introduced the Special Lecture and Discussion Series titled "Central Eurasian Studies in East Asia and Beyond", which consists of several events designed to highlight the most prominent findings and research studies in the field. Professor Dadabaev invited everyone to join other talks in the Lecture Series to be held in January and February.
In his presentation, Professor Dadabaev spoke about his newly edited book on Uzbek migration to Japan, which aims to shift the discussion away from the popular narratives of stigmatization and victimization of migrants. The book will be published by Palgrave Macmillan in 2022.
The second speaker Dr. Mukaddam Akhmedova talked in detail about the methodology of the conducted study. She highlighted the challenges she has faced during data collection and shared the strategies for overcoming them. Dr. Akhmedova also spoke about the gendered dimension of mobility and emphasized the role of ethnicity and religion.
The Q&A session was very dynamic, and the attendees asked many insightful questions.
The seminar was a great opportunity for everyone interested in the topic of migration and Central Eurasian studies to engage in an active dialogue with the authors. The presentation was recorded and will be shared online.
The record of this lecture series is available on Youtube.
You can watch it from the following channel.
Tsukuba Central Eurasian Studies
https://www.youtube.com/channel/UCtgSe6atrw84WOQTyo4iUkA/videos