Munira Malakbozova
Blue sky, transparent water in the sea, diverse nature, buttery-soft beaches, open and easygoing locals – this is all about one tiny place on Earth, Okinawa. Okinawa is one of the most beautiful places not only in Japan but without any doubt on the planet. This island is considered the healthiest locations in the world and even people consider it the second Hawaii place in Japan. Once you arrive at the island, you are witnessing blue crystal water, thousands of reefs as well as tons of beautiful palms and green trees, for instance, cherry blossoms. This great place is a heaven for constant peace, where most of the local people are content with their life and work. Okinawans are always happy in that place; thus they certainly believe this is key to a healthy lifestyle, presenting the island as the best place to settle down.
A week ago, I had an opportunity to visit this majorly historical island which is mostly known to people as the healthiest and happiest location on earth with the most beautiful geographical characteristics. The island itself has a rich historical background, especially from World War II since the island was occupied by American civilians for air operations. While walking around the island, I found out that this place has the longest life expectancy in the world, and so many people passed the age of 100.
Regarding our journey to Okinawa island, we spent 4 of the best and most unforgettable days in that breathtaking location. Every day our faculty members took us to places where we had an opportunity not only to enjoy the place but to receive new knowledge and if possible, to apply it in our Central Asian context. Of course, Okinawa is not comparable to the Central Asian region as it is placed almost in the heart of the sea and has a totally different context. Despite its different nature, environment and geographical location, I still saw something which I could take back home with myself and demonstrate as a vivid example of people's attitude towards the place they live in.
During our third day of the trip, the faculty members took us to the Yayema Commerce and Industry High School where we not only met a great number of young students, but also nailed our skills in playing Japanese musical instruments and dance movements.  When we first stepped into that building, two adorable and beautiful girls met us in front of the main building and guided us to the main hall where events are usually organized. Immediately, after entering the hall, you go through common Japanese traditions, as taking off your shoes, bowing to each other as a sigh of welcome and sitting on the floor with other members in the room. I was inspired by seeing how talented those students are and how seriously they take their take their art classes. Firstly, the students made a wonderful performance with the combination of dances and musical instruments. At the end of that remarkable show, I expected that someone would interpret it because as for me, I saw the performance as a storytelling about sea and the history of local people, however it did not happen. Furthermore, after the incredible show, we were divided into two groups: ones who wished to learn dance movements and others who wanted to play musical instruments. I chose the second option without any hesitation and learned how to play a small part of the melody. It took us only 20 minutes to learn as the students were so helpful and had an individual approach to each of us. The most pleasant part was the fact, that they were trying so hard to explain the details on how to play that instrument, even though we do not speak Japanese at all. Of course, it would have been impossible to leave the school without demonstrating our new skills, thus our team made a performance to showcase our masterpiece. It was a memorable moment for all of us as interaction with children and learning something new about them and their culture is the best thing that can happen to you.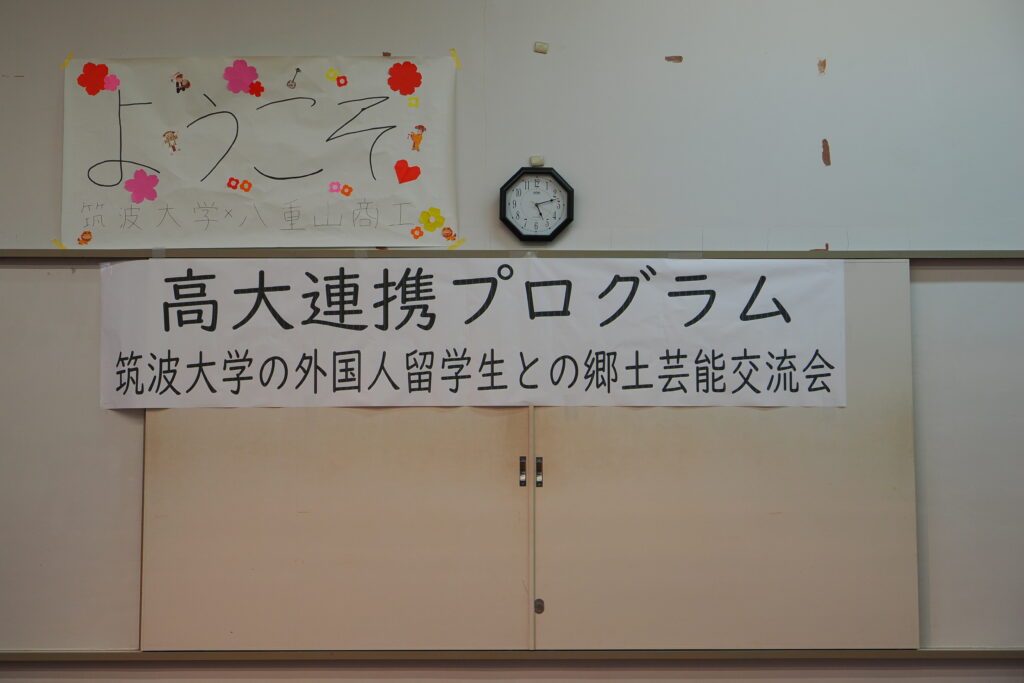 Lastly, I would like to take this opportunity in my article to thank Nippon Foundation for sponsoring our trip, and NIPCA employees and faculty members for organizing such an amazing trip to the island, which I couldn't even imagine in my dreams. I was so impressed by how organized, structured and informative the trip was. Nifayu!