On Friday, June 23, 2023, the 42nd "Central Eurasia and the Future of Japan" public lecture meeting was held, inviting Mr. Kei Fukuda, Director of Multilingual Media Department, NHK International Broadcasting Bureau, as a lecturer to give a lecture entitled "Behind the Scenes of NHK WORLD-JAPAN – Efforts to Strengthen Russian and He gave a lecture titled "Behind the Scenes of NHK WORLD-Japan: Efforts to Strengthen Russian and Ukrainian Language Communication after the Invasion of Ukraine".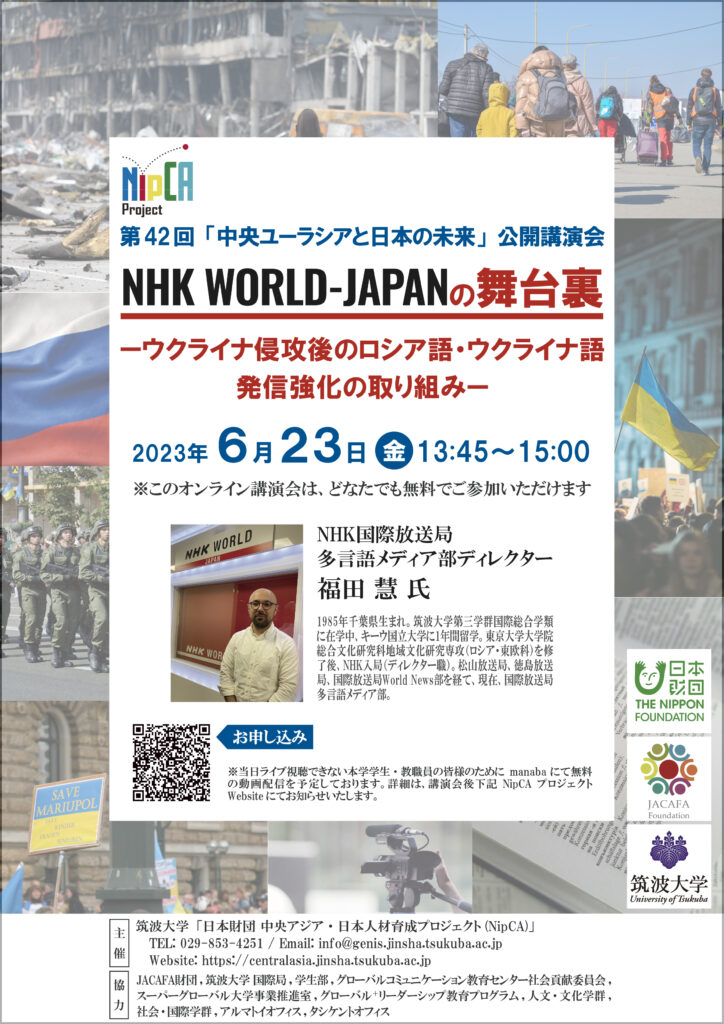 A graduate of the University of Tsukuba's School of International and Comprehensive Studies, Mr. Fukuda took Russian as a third foreign language while still in school, and a short study abroad program at Ukraine's Khiu National University sparked his interest in the country's language situation. He then studied Ukraine's language policy at the University of Tokyo's Graduate School, before going to work for NHK, where he gained experience at a regional broadcaster and in the World News Department of the International Broadcasting Bureau, and has been working at the Russian Language Group Desk of the Multilingual Media Department since 2020.
To begin, he explained in detail how NHK World Japan's Russian-language content service has changed in response to Russia's invasion of Ukraine, featuring actual programs that were broadcast. Prior to Russia's invasion of Ukraine, NHK World Japan Russian-language distribution included news, Japanese language learning content, radio programs introducing Japanese culture, customs, and seasonal topics, and other enjoyable content.
However, after the invasion of Ukraine in February 2022, these programs were replaced by broadcasts that focused on news about Ukraine. Since NHK world Japan's TV broadcasts are blocked in Russia, the first step we took was to strengthen our radio broadcasts, delivering reliable information to the Russian public via radio.
Since the website can also be viewed from within Russia, Russian subtitles were added to the broadcasted sessions of the anti-war art exhibition held at the Tokyo University of Foreign Studies, which had already been broadcast on the English-delivered program. The program received a great response by delivering the thoughts of Ukrainian artists who continue to create in Kiev even after the invasion and Belarusian artists who continue to present their works without fear of making political statements.
In addition to the new Russian service, Ukrainian service is now available. Mainly for displaced Ukrainian citizens living in Japan, we provide news about Ukraine and information about the lives and infrastructure of displaced people in their own language. We also have a page on living in Japan with short, easy-to-read articles that provide very basic information about living in Japan, such as how to visit the hospital, garbage disposal rules, children's education, and how to spend money in Japan. In addition, "Easy Japanese" content is also available in Ukrainian in anticipation of growing demand in the future.
Mr. Fukuda concluded his speech by stating that, regarding the future of Russian-language services, he felt the importance of the fact that there are people who dare to listen to our broadcasts despite the ongoing information control in Russia, and that he would like to provide broadcasts and services that are close to such people. He also stated emphatically that he would like to continue to enhance the content of Ukrainian-language services in the future.