The first Borderless Onsite Meeting was held on Friday, May 19, 2023, in conjunction with the International Bureau Global Commons. 。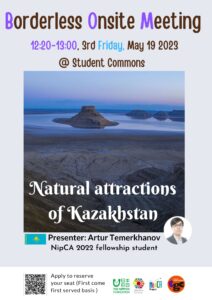 This is a new trial for this academic year, and its purpose is to provide a place for exchange in English between international students and TUFS students, faculty and staff at the Student Plaza on campus during lunch break on the third Friday of odd-numbered months. The six countries from which the NipCA Fellows come – Kazakhstan, Kyrgyzstan, Uzbekistan, Tajikistan, Turkmenistan, and Azerbaijan – will be introduced to international students about their countries, giving participants an opportunity to become familiar with the countries of Central Asia.
For this first session, we invited Mr. Temelkhanov Artur, a fourth-term NipCA Fellow from Kazakhstan, to speak on the topic "Natural Attraction of Kazakhstan. Kazakhstan has two World Natural Heritage sites: the Steppes and Lakes of North Kazakhstan and the Xiantian Mountains. However, as the ninth largest country in the world, it is also home to some of the most beautiful natural scenery, and many of the participants marveled at the many beautiful photographs that Mr. Artur introduced.
During the Q&A session, participants asked many questions about the materials used in yurts, the traditional dwellings of Kazakh nomads, and their use in modern times, which were carefully answered by Mr. Artur. During the free talk time that followed, the NipCA project's own Kazakh folk art was placed on each table, and with the participation of many international students from Kazakhstan National University, our CiC partner university, lively discussions took place.
We also heard from Mr. Artur and other international students from Kazakhstan that they were happy to be able to talk with faculty and staff with whom they do not usually have the opportunity to interact, and to introduce their country. Although Tsukuba University has close ties with Central Asia, most of the faculty and staff were unfamiliar with the region, and one of the major outcomes of this event was that they were able to deepen their mutual cultural understanding by holding Kazakhstani folk art in their hands and having the international students explain it to them.