The third Borderless Onsite Meeting took place on Friday, September 15, 2023, in association with Global Commons.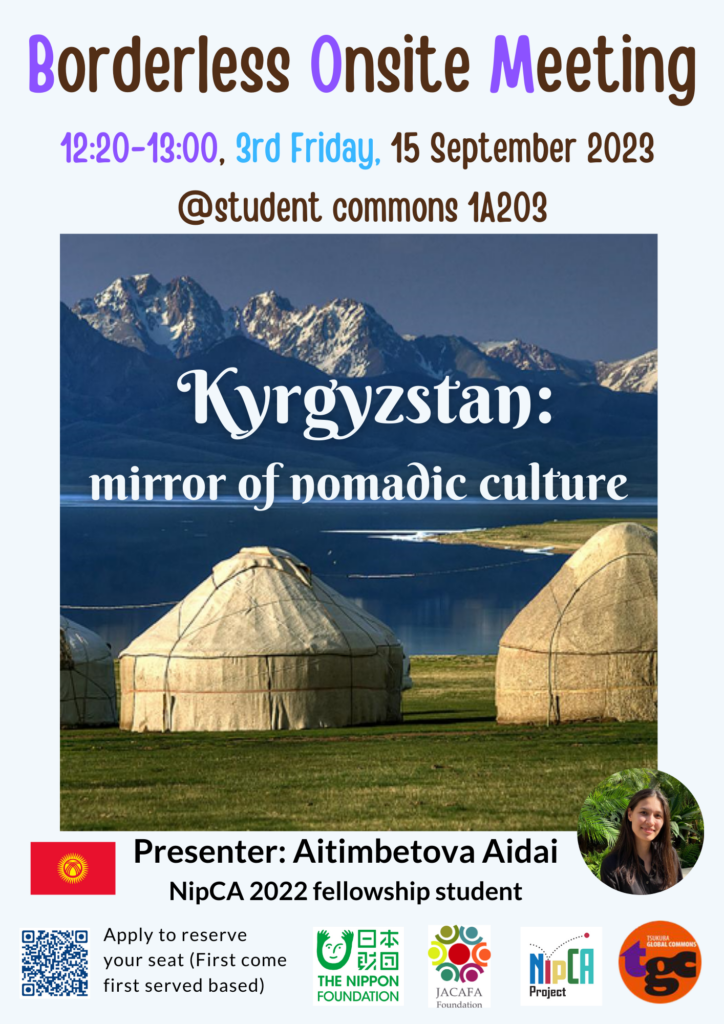 The third cohort NipCA Fellow from Kyrgyzstan, Ms. Aitimbetova Aidai, presented on the topic "Kyrgyzstan: Mirror of nomadic culture" at the gathering.
Ms. Aidai began by providing background information about Kyrgyzstan and explaining the charms of her home country, showcasing a variety of photos of the rich nature of the Tien Shan Mountains, hawking culture, and a traditional horse-riding sport called "Kok boru". Her description of Kyrgyzstan's national origins as an equestrian people—a trait shared with Kazakhstan—in particular contributed to a broader understanding of the region overall and highlighted the distinctions between Kyrgyzstan and other Central Asian nations.
As usual, folk art, mainly felt products from Kyrgyzstan, were placed on each table, and this time photos of traditional Kyrgyz dishes were displayed and explained in detail by the international students who attended the event. We have already heard presentations about Kazakhstan and Uzbekistan during our Borderless Onsite Meeting. Since these two adjacent nations have many things in common, Ms. Aidai went into detail with us about the similarities and differences.
The next Borderless Onsite Meeting is scheduled for Friday, November 17, with a presentation by Ms. Davronova Farangis, a NipCA fellow from Tajikistan.