During the period of Sept. 11, 2020 (Fri.) – Sept. 18 (Fri.) , Dr. Yuko Yamamoto, an associate professor in charge of this project, attended the training of English as a Medium of Instruction (EMI). EMI is one of the instruction methods that gain attention in recent years, claiming "to teach students who are not native speakers of English, major subjects classes, only in English." This training was jointly sponsored by a researcher of applied linguistics of Oxford Univ. of England, and Oxford EMI Center. This training was attended by three faculty members from Univ. of Tsukuba.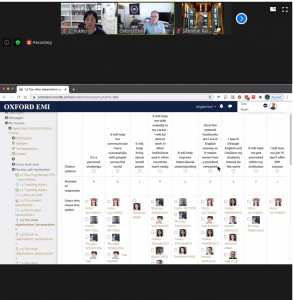 This EMI training is held in various parts of the world, but this year, it was held online, and it became a training program for teachers who teach in higher education institutions in Japan and Korea, with same time difference. In this training, students receive an independent training program using Moodle from the morning to the evening, and receive a live online training from the evening. In addition to the live lectures based on the latest research, there were daily debates with the teachers who are conducting daily English classes at universities in Japan and Korea and discussed dilemmas and ingenuities in the field. Dr. Yamamoto said that she had a good opportunity to look back on her skills and spent a very rich week.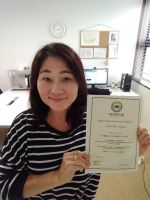 After eight days of training, Dr. Yamamoto obtained a certificate of Oxford EMI Training. She is excited to see how she can make use of the knowledge, experience, and network she gained from training in the future.