Current affiliation (work/university, job title/graduate school) As of July 2018, currently enrolled in the College of Humanities, School of Humanities and Culture.
[Year of graduation, affiliation (school group/ class name)] March 2019: Expected graduation from College of Humanities, School of Humanities and Culture
April 2019: Planning to join an IT company in Tokyo
[Period of study] September 2015 to July 2016: University of Narxoz, Almaty, Kazakhstan [Main program activities]
Overseas training (Kazakhstan, 10 days)
Internship (Kazakh Japan Human Resources Development Center)
Economic Forum (Theme: Problems and Solutions for Industrial Structure in Central Asia)
(1) Please tell us about your current work/research.
I belong to the College of Humanities, School of Humanities and Culture of the University of Tsukuba and am working on my graduation thesis. The theme of my graduation thesis on the thoughts and values the younger generation in Kazakhstan has for languages such as Russian and Kazakh. As I exchanged many words with young people in Kazakhstan through studying abroad, I became interested in their language awareness and values. I would like to make full use of the personal connections and language skills I have cultivated up to now and write papers while enjoying it.
(2) Please tell us your motivation to participate in the program and what you think it is good to participate in the program again/ that you are glad to have studied abroad (such as the power you think you gained through your activities).
While I had a vague goal of "definitely studying abroad," I happened to hear about Kazakhstan from a senior student I had befriended at university, and this sparked my interest in the country. It was the first thing that made me decide to study in Kazakhstan. At that time, I heard about the Ge-NIS program for Russian-speaking countries and applied without hesitation. What good timing!
I became a Ge-NIS program student because of this. I feel that it was good to participate in the program because I was inspired to learn a lot of decision making. Through the activities of the program, I encountered situations where I had to think for myself and make decisions on a daily basis, and I feel that my originally indecisive personality has changed into a person who can make decisions.
Also, it was really good that I was able to meet a variety of people, with a focus on Russian language. I would like to continue to value the connections that I have gained through the program.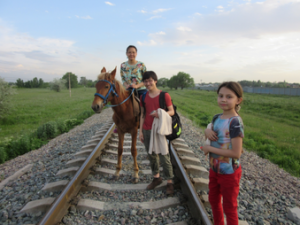 Through my study abroad, I met a lot of people. One of the main reasons why I was able to make my own decisions was because I was exposed to various people's values through studying abroad, which made me realize that there is no single right answer.
(3) What was your most memorable episode during your study abroad?
The most memorable moment was when we held a big field day at Almaty. A casual comment from a fellow Japanese student led to the idea of planning something interesting to show our gratitude to the people who had helped us there…yes, we decided to have a big field day in the Japanese style.
Everything was handmade for the field day, so we proceeded on our own with the support of others, from creating the general program to making the necessary accessories for the day and attracting visitors. The night before the field day, all the international students rented a daily apartment and stayed overnight to put the final touches on the project at a rapid pace, which I remember as vividly as if it were yesterday.
It was a series of turbulence on the day. I was preparing ahead so that I could explain Japanese sports events and competitions well, but there were some language barriers that made communicate difficult than I had thought. By illustrating with my finger on the floor, and running around a lot to demonstrate… I realized how difficult it was to tell them exactly what they didn't know. As a result, I was relieved that all the participants had understood. It was very heartwarming to see everyone enjoying themselves and laughing as they participated in the competition. All of these are good things that make me laugh when I look back.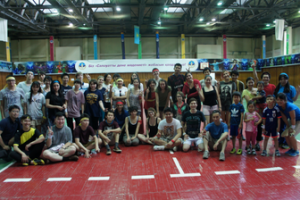 After the field day, with the participants. It's the best memory I have. I would like to continue to interact with people I have met in Kazakhstan (by the way, I am on the left side of the front row).
(4) Please tell us about your future dreams (goals and challenges).
In the long term, my goal is to become the one and only IT talent without a substitute.
As a result of various events and encounters with people, I decided to work in the IT industry, changing the direction of my vague idea of working in a Russian-speaking region to take advantage of my expertise. Nevertheless, I would like to continue to cherish the connections with Russian-speaking people that I have maintained interest in throughout my student life. In the future, I would like to do a job that no one else can do with IT and Russian-speaking nodes.
(5) Please give a message to the University and our students.
In terms of career choices, I have been told that I am indecisive with no core. I think the reason for this is that I didn't have enough specific visions for my career. I am very grateful to the University of Tsukuba and the Ge-NIS program for providing me with the opportunity to build my vision and make up my mind.
It's not usual that your vision or what you want to do suddenly appears in front of you one day. In many cases, I feel (now) that visions only become concrete when you search for them yourself and think about them with your mind. I am not in a position to say such a thing, but I would like to recommend to juniors to try to build their own vision as soon as possible.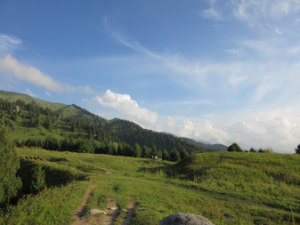 When I went hiking on a mountain in the suburbs of Almaty. I walked around too much, and my legs were like sticks.

[Name] Nakagawa Yuta