On Friday, March 5, 2021, as the 21st lecture in the public lecture series "The Future of Central Eurasia and Japan," we welcomed Ms. Toda Noriko, a doctoral student in Music Culture, Graduate School of Music, Tokyo University of the Arts, to give a lecture entitled "Re-contexting Oral Traditions: Contemporary Education of Traditional Kazakh Music".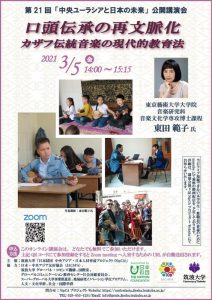 Ms. Toda is specializing in ethnomusicology of Central Asia with a focus on Kazakh traditional music, in Doctoral Course. She has studied in Japan, Kazakhstan, and the United States, and has taught at two universities in Kazakhstan.
Originally, Kazakh folk music did not use musical notation, and put emphasize on improvisation and variation. Kazakh folk music was mostly played by one person on a dombra or solo. This form of music is still practiced today in places such as dombra parties by young people. However, in the Soviet era, dombra performances were incorporated into music education, scores were created, and Western methods of education began to be used. Around 1970, when this trend was observed, "ethnosolfege" classes appeared, which incorporated "solfege" into the teaching of dombra improvisation and variation, as well as the acquisition of historical knowledge. This "ethnosolfege" has led to the development of collective oral tradition methods, and at a private elementary school created by a musicologist who contributed to "ethnosolfege", children learn how to play the dombra by watching, listening, and imitating without using music scores.
The lecture, which included scenes of actual dombra lessons, was very interesting and made us think about how to maintain the identity of the Kazakh people as former nomads in modern education.