The 28th Public Lecture of "The Future of Central Eurasia and Japan Future" took place on August 2, 2021. The guest speaker, Mr. Sei Matsushita, Specially Appointed Lecturer of the Global Education Center at Kinki University, gave a lecture entitled "Leading a University's Global Human Resource Development Project to Success: A Practitioner's Perspective on Project managerial position Methodology."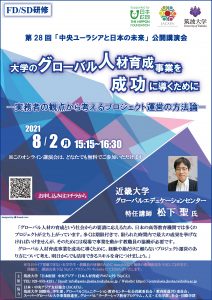 Dr. Matsushita studied Russian and Kyrgyz languages at the University of Tsukuba. As a graduate student at the University of Tsukuba, he conducted stylistic research on Kyrgyz literary works. Currently, Dr. Matsushita has been involved in project planning, organization, and managerial position at Kinki University. In this lecture, based on his practical experience of managing projects that must produce a particular result within a deadline, Dr. Matsuhita explained what a project is and provided examples of actual project managerial positions, including personal work.
According to the lecture, KKJ (experience, intuition, and personal virtue) is essential for any project's success in working on university projects. However, even these three skills have not been developed yet, and there may come a time it is required to work on a project and lead it to success. At that time, the lecture proceeded from the point of view of what kind of technique would increase the reproducibility of the project's success with "novelty" and "timeliness."
There are five phases in a project managerial position: "start-up," "planning," "execution," "conclusion," and "monitoring and control," which are related to all of them. In this presentation, Dr. Matsushita discussed the key techniques required in each phase to do a reliable job, including familiar to many people brainstorming. He also mentioned other methods, such as the KJ method and writing out WBS (Work Breakdown Structure), which may be not familiar to a broader audience but are essential for a smooth project. In addition, Dr. Matsushita talked about the fundamental techniques required to do the job reliably in each phase. He also explained the latest trends in IT technology to improve work efficiency, which is necessary now that online education and projects are being promoted, using three keywords: "cloud collaboration," "automation," and "no code."
During the Q&A session, many questions and comments were received. In particular, practitioners with experience in managing projects and other participants of this session both from and outside the university raised insightful questions. It was an excellent opportunity to think about how to apply the techniques discussed in the session flexibly.
This lecture was available on manaba from August 5, 2021, to August 15, 2021.