The 27th Public Lecture of "The Future of Central Eurasia and Japan" Series took place on July 21, 2021. For this event, the guest speaker, Dr. Noriko Okamoto, Professor of the School of International Relations at Tokyo International University, delivered a lecture entitled "Communication Issues in Multicultural Society in Japan: Considering Language Education in the Context of Diversity."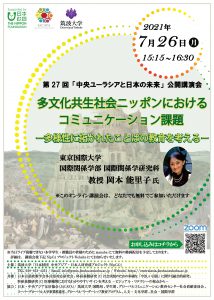 Dr. Okamoto is active in sociolinguistics, Japanese language education, and language education policy and serves as vice president of the Japan Association for Language Policy Studies. She has been actively engaged in research on the necessity of visual communication in language education policy in Japan. Also, Dr. Okamoto has proposed a pedagogy that incorporates skills such as "seeing" into the conventional four skills and five domains of language education.
In this lecture, the main discussion was about what kind of linguistic skills will be emphasized in a world where media development is accompanied by the rise of communication that emphasizes visual information. In addition, when society becomes multilingual and multicultural, and people from various backgrounds learn and use a single language, how will smooth communication look? To answer these questions, Dr. Okamoto touched upon the following topics.
Nowadays, there are more and more situations in which important information that concerns the lives of various people must be transmitted and communicated, such as the spread of COVID-19 infection and natural disasters. In these situations, information designed to be as intuitive and easy to understand as possible for people who do not understand much Japanese, such as easy Japanese and public signs, is needed. However, the ability to "see" without relying on words is similar to grammar based on cultural background. Even basic visual information such as arrows and illustrations are understood based on the tacit knowledge of one's mother tongue and culture. In this context, Dr. Okamoto spoke about the latest trends and initiatives undertaken in the medical and administrative fields.
She also talked about the future of language education from the perspective of "unlearning," including examples of actual classes. Dr. Okamoto showed how activities for a critical re-examination of current values and reflection on them through dialogue with others provide the basis for gaining the flexibility to adopt new values and knowledge.
Other examples included observing common linguistic usage in LINE stamps and a first-hand experience of how visual signs can be viewed differently depending on one's linguistic and cultural background. It was a meeting that brought about a new awareness of issues in each participant's language life.
This lecture was available on the Manaba platform from July 26, 2021, to August 8, 2021.