The 30th public lecture of "The Future of Central Eurasia and Japan" series was held on September 10, 2021. The guest speaker, Mr. Yoshinori Takeda, Director of Central Asia and the Caucasus Division of European Affairs Bureau of the Ministry of Foreign Affairs of Japan, delivered a lecture entitled "Japan's diplomacy towards Central Asia in the era of the pandemic."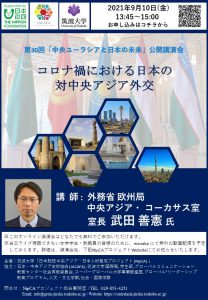 Mr. Takeda joined the Ministry of Foreign Affairs of Japan after graduating from the Graduate School for Law and Politics at the University of Tokyo. During his time at the Ministry of Foreign Affairs, Mr. Takeda served as a deputy director of the Minister's Secretariat, principal deputy director of the Middle East and African Affairs Bureau, First Secretary of the Permanent Mission of Japan to the United Nations, Political Counsellor at the Embassy of Japan in Iran. Currently, he serves as a director of the Central Asia and Caucasus Division of the European Affairs Bureau. Mr. Takeda is one of Japan's leading experts in the international cooperation between Japan and Central Asia. In this lecture, he talked about the current situation of the five Central Asian countries that will celebrate 30 years of establishing diplomatic relations with Japan in 2022, the various frameworks of the "Central Asia plus Japan" dialogue, and the relationship with Afghanistan, which continues to be tense.
Since 2004, the Foreign Ministers' Meeting has been held in the "Central Asia plus Japan" dialogue framework. Japan has been working to help Central Asia achieve stable and independent development, focusing on infrastructure, agriculture, and transportation. And the University of Tsukuba has contributed to this cooperative relationship between Japan and Central Asia in human resource development. Besides Japan, Central Asia also cooperates with countries in the EU, Korea, India, the United States, Russia, and China. Cooperation with each of these partners has different key aspects. For instance, a priority area in cooperation between Central Asia and Russia is international security, given the situation in Afghanistan. In the case of cooperation with China, it is a trading partner in natural gas and other resources; with the EU, a priority lies in international cooperation for human rights and democracy; and with Korea, cooperation priorities include economy. Similarly, the "Central Asia plus Japan" dialogue has various aspects of cooperation.
At the end of his lecture, Mr. Takeda also discussed the response of the Central Asian countries to the rapid developments in Afghanistan. It was a unique opportunity to rethink many issues in Central Asia, a geopolitically important region.
This lecture was available on the Manaba platform from September 10, 2021, to September 26, 2021.