The 31st Public Lecture of "The Future of Central Eurasia and Japan" Series was held on September 16, 2021. Mr. Yoshitaka Matsuda, a journalist, was invited as a guest speaker to give a lecture entitled "The Perspective on SDGs from Ishigaki Island as a Multiethnic Society."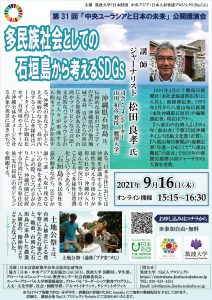 Mr. Matsuda joined the Tokachi Mainichi Shimbun (Daily Tokachi newspaper) in April 1991, where he worked as a reporter for the political and economic department. Since February 1993, he has been a reporter for the Yaeyama Mainichi Shimbun (Daily Yaeyama newspaper) on Ishigaki Island, Okinawa Prefecture. Mr. Matsuda continuously carried out the coverage of events on the Yaeyama Islands in Okinawa.
Currently, Mr. Matsuda is working as a freelance journalist based in Taiwan. In 2004, he won the Okinawa Times Publishing Culture Award for his book "Taiwan in Yaeyama" by Nanzansha. In this lecture, he talked about the lifestyle of the Taiwanese immigrants in Ishigaki Island and shared unique photographs.
Ishigaki Island is close to Taiwan. The distance from Ishigaki to Naha on the main island of Okinawa is about 400km, while it is 230km from Ishigaki to Taipei, which is nearly half the distance to Naha. Because of this geographical background, many immigrants from Taiwan have visited Ishigaki Island since long time ago, and their descendants still live there. In addition, the area around Ishigaki Island has a history of accepting immigrants from Okinawa Island and Miyako Island after the war leading to the development of many settlements. For this reason, in Okinawa, local records are often compiled by small characters rather than municipalities. Although there is a movement to collect local histories in Taiwanese immigrant communities, many immigrants did not have the opportunity to receive an education. It seems that the transmission of history is mainly dependent on photographs and newspaper articles.
In the latter half of his lecture, Mr. Matsuda talked about the Land Gong Festival, passed down from generation to generation in the Taiwanese immigrant community, with numerous photographs. The Land Gong Festival is held on the 15th day of the 8th lunar month by Taiwanese people and is a unique festival in which pigs are offered to pray for a good harvest and sound health.
In the Okinawa region, each island and each area still has its language and culture, and it is a region that maintains diversity. This lecture was an excellent opportunity to learn about the past activities of minority groups to preserve their traditional culture and think of its transmission to future generations.