On Friday, August 20, 2021, the second online screening of Russian and Central Asian films was held. This event was the second screening in the framework of a new project focused on films that have not yet been introduced in Japan with subtitles to deepen understanding of Central Asian culture and the SDGs. This year's screening had a preliminary commentary on the film via Zoom, followed by the screening on ULIZA, a platform for viewing a high-quality video. We had 501 applicants and 368 participants, similar to the first screening, which was a great turnout.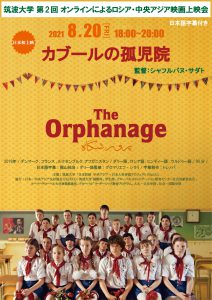 This film screening displayed "The Orphanage" (2019), the second feature film by Afghan filmmaker Shahrbanoo Sadat. Many people attended it because of their interest in the region as the withdrawal of U.S. troops from Afghanistan began before the screening and related news became prominent in Japan.
Mr. Yuji Kajiyama, the project coordinator of the UIA and the organizer of the event, gave a prescreening commentary titled "Society and Language in Afghanistan through Films: Relations with the Soviet Union and Central Asia." He explained that the culture of Tajikistan, a neighboring country, transfuses Afghanistan since Tajikistan has the same official language as Persian. Also, he mentioned the popularity of Indian films in Afghanistan as in many other parts of the world. In the post-screening questionnaire, many people commented that the film increased their interest in Afghanistan and helped them understand the background of this country, which has a complicated history.
As mentioned in the prescreening commentary, as of August 20, film director Shahrbanoo Sadat was still in Kabul with her family, and the safety of this cultural figure and woman was a matter of great concern. However, shortly after the screening, Katja Adomeit, the producer of "The Orphanage," announced that Sadat had managed to flee the country safely under the escort of the French military forces.
Although the situation in Afghanistan stays unpredictable, NipCA Project will continue to hold screenings to raise social awareness of these issues.