On Monday, February 7, 2022, the Nippon Foundation Central Asia-Japan Human Resource Development Project (NipCA) and the Special Program in Japanese and Eurasian Studies (University of Tsukuba) hosted a seminar titled "Neo-Eurasianism and Russia's Vision of the International Order" delivered by Professor Yukiko Hama (University of Shizuoka).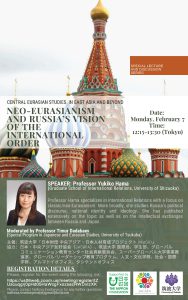 The seminar took place online via Zoom and was open to the public. The event attracted established and aspiring researchers from both Japan and abroad.
The moderator of the event, Professor Dadabaev (University of Tsukuba) kicked off the event by introducing the Special Lecture and Discussion Series titled "Central Eurasian Studies in East Asia and Beyond", which consists of several events designed to highlight the most prominent findings and research studies in the field. Professor Dadabaev invited the audience to actively participate in the seminar and ask their questions during the Q&A session. The participants were also invited to join other talks to be held in February and March.
Professor Hama started her presentation with explaining the concept of "Eurasianism" and highlighting its origins dating back to the early 1920s. The lecture proceeded with the discussion of the revival of the notion in the 1990s and the explanation of Neo-Eurasianism from the constructivist perspective. Professor Hama, then, concluded her speech by describing the shift in Russia's approach to the international order between the 1990s and 2010s.
During the Q&A session, Professor Hama was asked many questions about her theoretical approach and her thoughts on the past and current political and economic developments in the Eurasian region. Professor Hama shared her expertise by providing detailed answers to all questions.
The seminar was a great opportunity for everyone interested in Central Eurasian studies to exchange ideas with one of the leading Japanese scholars. The presentation was recorded and will be shared on the program's Youtube channel:
https://www.youtube.com/channel/UCtgSe6atrw84WOQTyo4iUkA
The Lecture Series will continue with the next public seminar scheduled for February 14th at 12:15 PM (Tokyo).