Rajabova Manizha
There is always something exciting about exploring new places and learning how creative human imagination can be in its pursuit of artwork creation, and how intricately can art be combined with the natural landscape. When I was about to depart for our internship trip, I knew only some basic (and sometimes completely random) facts about Hokkaido – that it is one of the coldest prefectures in Japan due to its proximity to Russia, that the ice cream there is amazing and the local powder snow is something that snowboarders and skiers from all around the world are literally dreaming about. Back then I thought: "Sounds like there are a lot of winter activities! But what about the summer season?". As it turned out, Hokkaido and its famous resorts have much to offer.

Throughout our intensive internship, we have learned a lot about local ski resorts and even visited one of them – the famous Hanazono Resort, situated 100km south of Sapporo, not far away from the town of Kutchan-Cho. While striving to create an all-season resort, Hanazono came up with the fascinating idea – to use its natural slopes and morph them into an actual artwork installation, which can be enjoyed even during humid summer, when there is no famous powder snow for tourists to appreciate. And to somehow implement this "idea", which had no actual shape back at the time, Hanazono Resort management has decided to seek aid and inspiration from the globally renowned professional specializing in site-specific installations – Bruce Munro.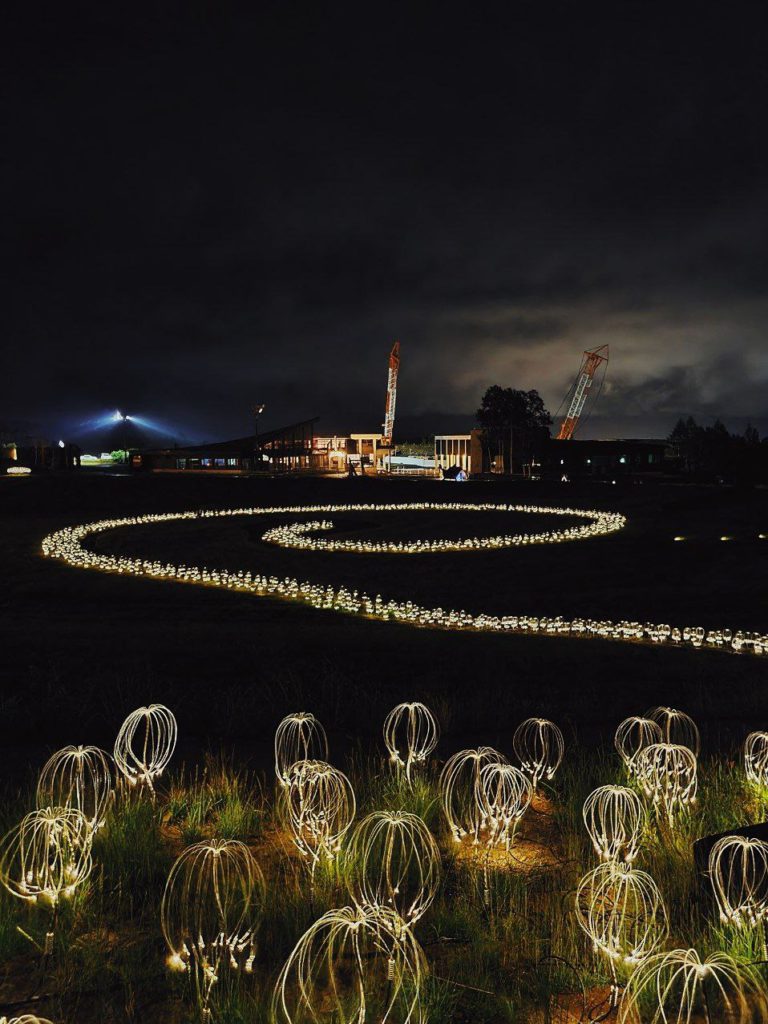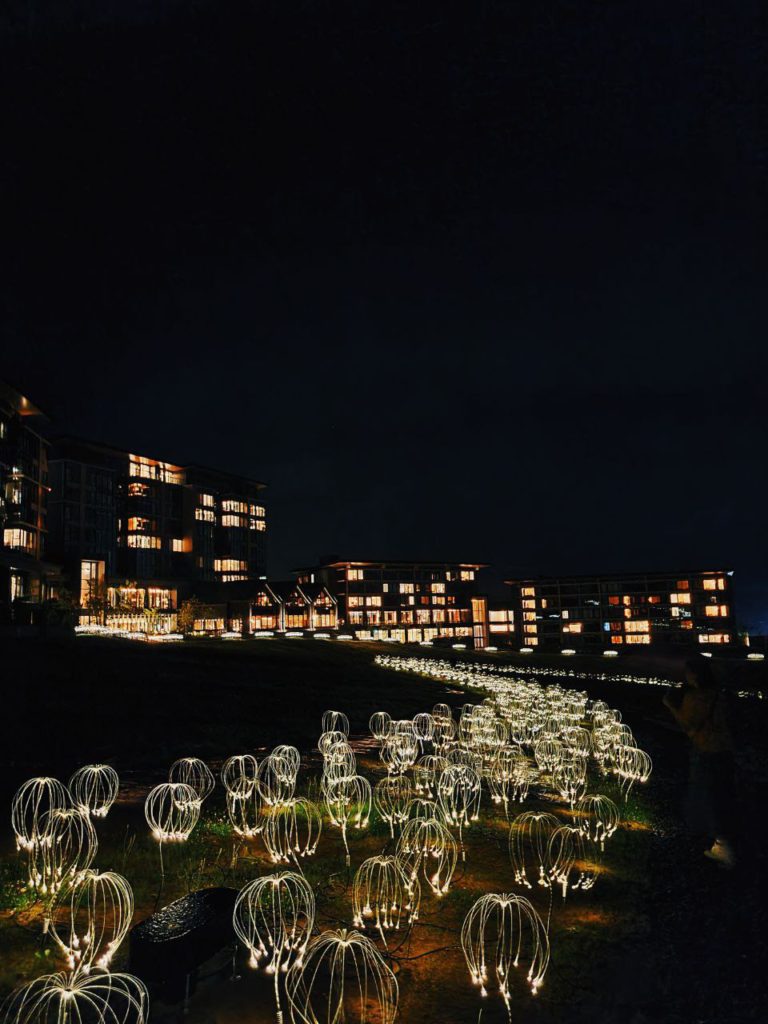 This is not the first time when Bruce Munro designed something so immersive – I have heard of his works before, specifically his most famous and biggest project called "Field of Light" in Uluru, Australia. His projects aim to create an "emotional response" from the viewer – and I guess that it is really impossible to stay cold-hearted when you see vast territories of land covered by color-changing lights. But I think that his project at the Hanazono Resort can rival even the most renowned of his light installations across the globe because the walk along the shining path of "firefly sculptures" is a surreal experience, beautiful and captivating at the same time.

Before moving to my personal impressions of the exhibition (spoiler alert: it was mesmerizing!), here is some statistical data for your reference. Just to understand the scale of the project, a total of 180 thousand individual points of light (each one of them looks like an alien flower with lots of strands – sounds weird, I know, but check out the photos!) were used to create a 1.3 km length installation on the slopes under the Hanazono Symphony Gondola and adjacent to the Park Hyatt Niseko Hanazono. According to the information we received during the introductory lecture by one of the Hanazono Resort managers, the art installation will be open during the summer and autumn seasons of 2022-2024, which means that during winter all lights will have to be removed and stored, and then reinstalled again in the next year. The significance behind it was the fact that our group was about to experience the first original installation of the "Mountain Lights", just the way they were designed and tailored into the natural surroundings of Hanazono by Bruce Munro and his team!

But aside from the statistics – which are impressive, that's for sure – the personal experience or the "emotional response" which inevitably occurred was far more important for me. So, just imagine this: the sun is already hidden behind the horizon, and you are standing on the platform next to the cable car which you are about to take in the middle of the night. As you ascend to the mountain top, you can see a path of lights underneath you, spiraling up to the highest point of the slope, as you try to follow their trace with your eyes. Then, when you reach the middle station, you have a decision to make: either keep going up on the cable car or hop down to the ground and take the returning path along the lights. As you look down from the cable car window, you can see that the path of light turns into a huge spiral at the beginning, almost resembling a vortex – and believe me when I say that it is one of the most breathtaking views you are going to see in your life.

So it is not surprising that I remember that night in Hanazono Resort very vividly: as our team reached the "checkpoint", we decided to go all way down on our feet, even though it was raining and we could barely see the path in the night – we could only trust the lights to guide us back. And when you look at those lights very closely, you can see that they are actually made with multiple strands, reminding you of glowing jellyfishes! The only regret I had at that moment is that I didn't have a professional camera with me, since otherwise, it is impossible to transfer the actual beauty and atmosphere of that place. Still, I have tried my best to take some pictures, which I hope the readers will enjoy too!
Ever since I came to Japan, every single day of my stay here was a small journey of exploration – and this internship just added new memories and knowledge to the vault of experiences I will carry close to my heart. So, as I closing statement of this report, I want to thank the Nippon Foundation for their generous support and sponsorship of this trip, as well as the program staff for taking care of us.

And for those who read this – don't hesitate to visit Hanazono Resort and Hokkaido in general! Wherever it is a summer or winter season, it has some fantastic experiences to offer just for everyone.