AITIMBETOVA Aidai
During our study trip to the Okinawa prefecture and Ishigaki island, we visited a significant number of interesting places, one of which was Kabira Bay. Kabira Bay is a famous scenic spot on Ishigaki island with a wonderful and charming view. It is located near the city and provides different opportunities for tourists, such as diving, coral reef observation, and shopping.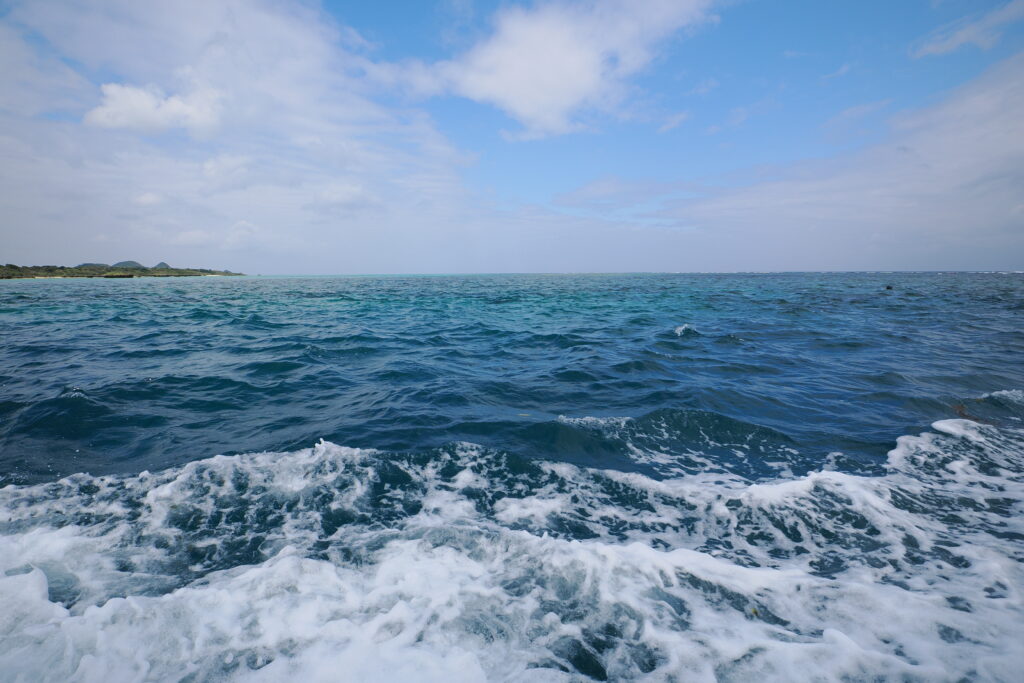 We visited this place on our second day on Ishigaki island. At our orientation meeting, professor Yamakawa said that it would be much better to visit Kabira Bay on a sunny day since the view of the clear blue ocean is one of the famous features of the park. However, on our trip day, it was cloudy, and we were worried that we could not see the beautiful sea gradients changing from blue to green. Even though the weather was not as good as we expected, the view that we were seeing was still charming. The differences between blue and green colors made a strong contrast in the sea and had a huge impact on everyone. Although I have seen the ocean view a lot, the image of Kabira Bay is my favorite among all of them. The place gives you the feeling of peace and a sense of unity with nature.
We came to Kabira Bay to see the coral reef and explore the underwater vistas. The program provided an opportunity to discover marine life with the glass boat in Kibara Marine Service. During our 30-minute trip on the glass boat, we have seen different species of corals and fish. Moreover, the captain gave us a small lecture about the marine and explained what we were watching. It was an amazing experience that everyone enjoyed, starting with the students, and finishing with our professors. The most memorable part of the boat trip was a turtle that we saw. No one expected to see the turtle, and the captain explained that it is a good omen.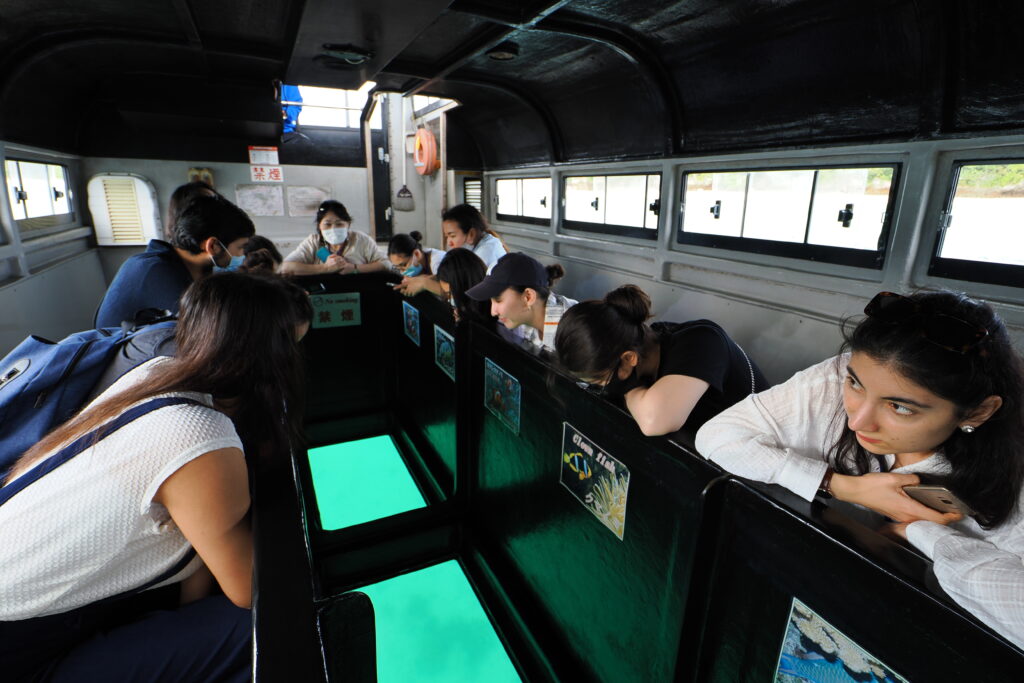 After our boat trip, we walked on the beach, enjoyed the view, and collected shells. Even though we visited Ishigaki island off-season, there still were a lot of Japanese tourists and other tourists as well. During our walk, we enjoyed the seaside view and took a lot of pictures and videos. After a long walk, we also had lunch at a Kabira Bay Cafe. Since most of the students do not eat pork meat, they prepared our lunch without pork, which illustrates how people there pay attention to other cultures. We had a traditional Japanese lunch with a big number of side dishes and the main meal was similar to our Central Asian meal – pilaf. For dessert, we decided to try a pineapple smoothie, since Ishigaki island is famous for this fruit. Pineapple is popular in Ishigaki island, there are a significant number of products with pineapple on the island. For instance, they have "omiyage" – Japanese souvenirs, with different flavors, the most popular was pineapple.
We spend around three hours on Kabira Bay but gained a lot of warm memories and knowledge about the ocean and coral reefs on Ishigaki island and Okinawa itself.