SAMATOVA Nodira
Discovering Japan and getting to know its local people and culture has always been a dream of mine, which is why I started learning Japanese. Okinawa Prefecture, known for its Ryukyuan people, stunning nature, tropical climate, coral reefs, and, of course, its snow-white sandy beaches and crystal-clear blue waters, had always fascinated me.When I found out about the study tour to Okinawa, I was thrilled to learn that my dream was finally within reach.
From the moment I arrived in Okinawa, I fell in love with it. It exceeded my expectations and turned out to be even better than I had imagined. During the study tour around Ishigaki and Taketomi islands, I had the opportunity to attend presentations by high school students, learn how to play the national musical instrument called the "Sanshin," observe the stunning coral reefs and even had the good fortune of seeing a sea turtle. Ishigaki Island is not a typical Japanese island, but rather an "Eco-island Initiative" supported by the government. Therefore, there may be no better place to learn about sustainability and renewable energy than Ishigaki. Throughout the intensive course, I strengthened my knowledge of SDGs related to  social sustainability, education, culture and environment. However, I was particularly impressed by Yaeyama Shokusan Co., Ltd with a tour and lecture on Euglena. Euglena, which has properties of both plants and animals, actually contains 59 varieties of nutrients that include vitamins, minerals, amino acids, and unsaturated fatty acids and Yaeyama Shokusan Co., Ltd is a local company which produces various products starting from food products to bio-fuel. The company, led by its founder, addresses a variety of challenges in order to contribute towards achieving the SDGs, including the eradication of poverty and hunger, promoting good health and well-being, providing access to affordable and clean energy, encouraging responsible consumption and production practices, and taking action on climate change.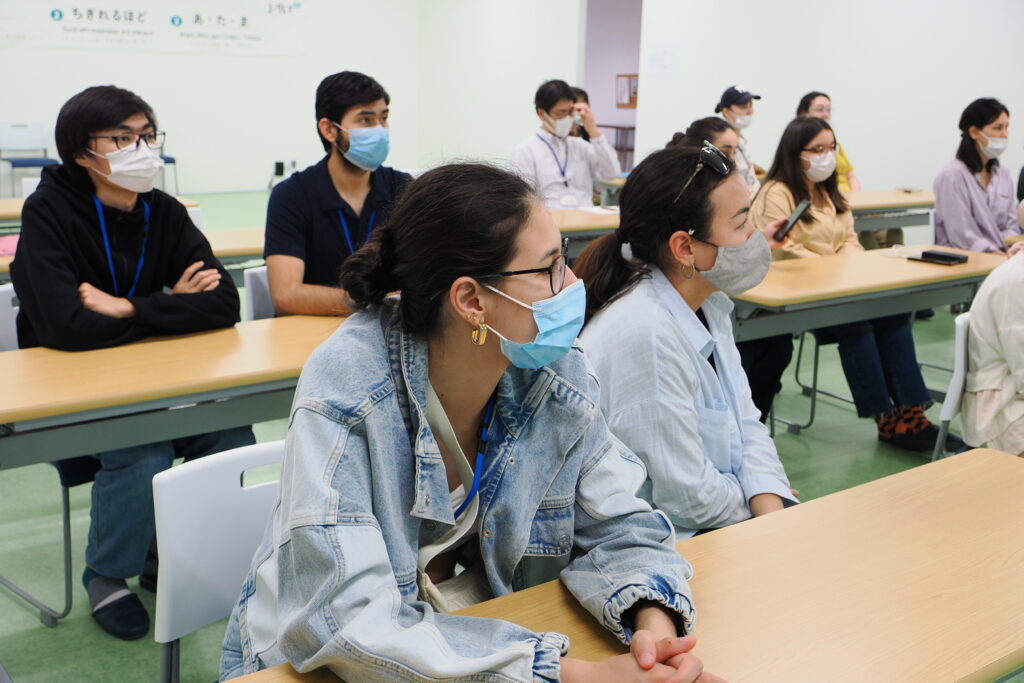 Once I arrived at the company I was delighted by the atmosphere inside the building. The combination of natural elements along with modern features gave a sense of peace and serenity. In addition, right in front of the entrance was demonstrated a variety of products made from Euglena. Interestingly, local people of Ishigaki island have a  discount for the company products. The officials of the company kindly held a lecture on Euglena and gave a tour around the company. First of all, the lecturer introduced the history of the establishment of the company. Mr. Mitsuru Izumo, the founder of Euglena Co., was shocked by the nutritional issues among children in Bangladesh, and decided to solve this problem by business development. I was amazed to know that from 2014 the company distributes Euglena cookies to children in Bangladesh who suffer from malnutrition. This project is called the 'Genki program' and from 2014 the company distributed more than 15 million nutritional cookies. In the frames of the project the Euglena Co. also supports improvement educational processes and knowlande of children about sanitation.  Besides cookies and useful health food products, the Euglena produces cosmetic products, renewable fuel, feed and development of biomass plastics. I have mentioned  the company uses micro algae Euglena with 59 nutrients in order to realize lifelong well-being.
With respect to renewable fuels, they aim to achieve a carbon-neutral society by creating sustainable alternatives. Interestingly, Euglena's biofuel "SUSTEO", which means sustainable oil, is a fuel that replaces fossil fuels and is used to realize a sustainable society.The raw materials for SUSTEO are used cooking oil and Euglena oil and fat extracted from the microalgae Euglena. The proportion of used cooking oil is 90% or more, and the ratio of Euglena oil is 10% or less. Using cooking oil and Euglena oil, the company produces sustainable aviation fuel and renewable diesel fuel for buses and marine vessels. For instance, Euglena Co., along with other touristic companies are realizing a carbon-free society and sustainability through the promotion of traveling to remote islands by using biofuel. The lecturer also mentioned enlarging the production of biofuel in order to build renewable fuel production in Japan.
After the lecture, I was given a tour of the laboratory, where the process of increasing the number of Euglena for further production was demonstrated step by step. During the Q&A session I asked about International cooperation of the company. Euglena Co. already contributes with countries like Bangladesh and Malaysia, so hopefully they also will cooperate with Uzbekistan in terms of nutritious food and biofuel in the future.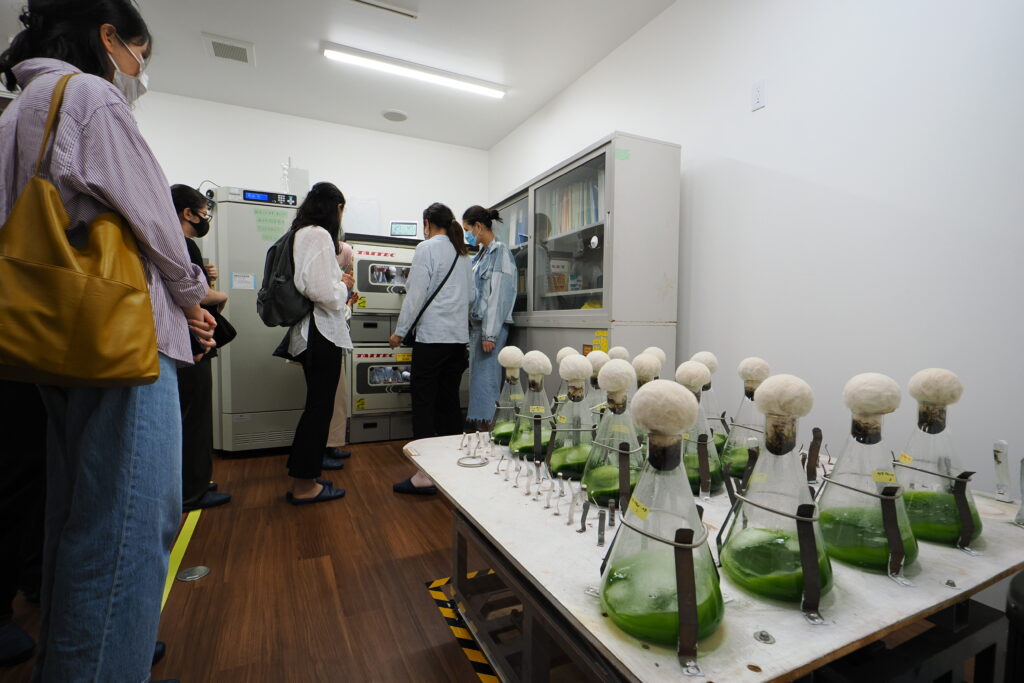 Euglena Co. was the first enterprise which managed to combine production with sustainability on a large scale. I realized that nutritious food can help reduce hunger and malnutrition among people, while biofuel can help us reduce the impact of greenhouse gases. I will look forward to cooperation between Japan and Uzbekistan in producing Euglena products.