DAVRONOVA Farangis
My best trips are not at all about audio guides and bright brochures from airport stands. These are small stories as if lived by ordinary citizens, whose admiration in the light of flashbulbs was replaced by a humble and loving acceptance of the surrounding splendour. In the eyes of my coursemates who were with me on the Okinawa study tour, this is bliss, joy, charming nature, modern technology and development for a promising future – and therefore the fascinating Ishigaki Island is now painted for me only in these tones.
It is always exciting to explore new places and learn about them through local experiences like tours, lectures and interaction with people. Before my study tour to Okinawa, I did not know too much about this place. I have heard of Okinawa, but I did not know much about its history or culture. During my visit, I learned a lot about Ishigaki and Taketomi islands where we had the opportunity to get to know the commitment of the people to the Sustainable Development Goals (SDGs). I visited a number of historical places, natural landscapes, local businesses and organizations, including Yaeyama Shokusan Co., Ltd where we had a tour and lecture on Euglena which has properties of both plants and animals, actually contains 59 varieties of nutrients that include vitamins, minerals, amino acids, and unsaturated fatty acids.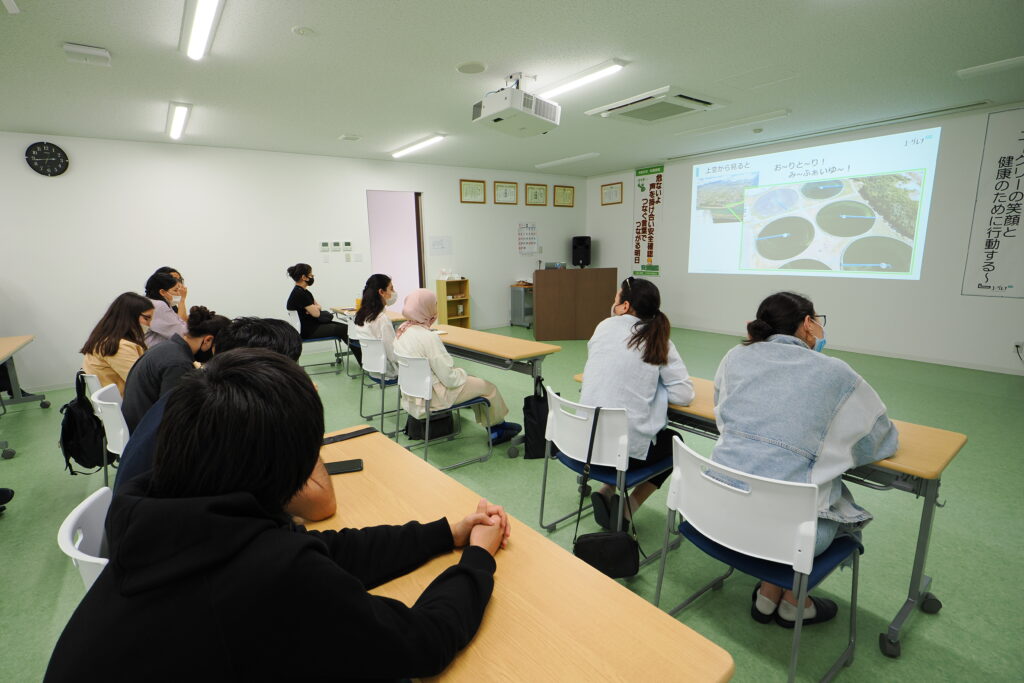 I was particularly impressed with the company's commitment to sustainability, evidenced by the use of solar energy and other green energy sources, it was interesting to learn about the unique characteristics and potential of the euglena and the innovative ways in which it is being used to create sustainable products. For instance, I understood that Yaeyama Shokusan Co., Ltd uses euglena for the reduction of environmental load by photosynthesis. The company also contributes to solving nutritional problems in Bangladeshi children, by delivering nutritious like Euglena cookies.
The company contributes not only to regional development through their actions but to the global as they serve for achieving the different SDGs. I was impressed to hear about the company's commitment to development through provided lecture. Because I realized that this Japanese company has a diverse impact as it is a Healthcare Business that contributes to Goal 3: Good Health and Well-being and Goal 12: Responsible Consumption and Production because they produce healthcare and beauty products from euglena supporting the well-being of people from inside and outside the body. Yaeyama Shokusan Company has a huge impact on our environment as it is a Biofuel Business that contributes to the achievement of Goal 7: Affordable and Clean Energy and Goal 13: Climate Action by producing energy that safeguards the future where bio-jet diesel fuel production without big harm to the environment is real. Also, it is important to mention that Euglena's company is a Social Business that works on achieving Goal 1: No Poverty and Goal 2: Zero Hunger by making rich nutrients available to everyone and helping children in Bangladesh.
My visit to Yaeyama Shokusan Co., Ltd. was an inspiring and educational experience. It was an amazing opportunity to learn more not only about the company and its innovative products but also about possibilities which companies could make to create a better and bright future by achieving SDGs for everyone. And for those who read this – don't hesitate to have a tour of this company if you are going to be in Ishigaki island or just have one through their website on your own: https://www.euglena.jp/en/, it is interesting to explore.