On Monday, May 23rd, 2022, the Nippon Foundation Central Asia-Japan Human Resource Development Project (NipCA) and the Special Program in Japanese and Eurasian Studies (University of Tsukuba) invited a University of Tsukuba alumnus, Dr. Nadzeya Shutava to talk about the findings of her upcoming book "Japanese Whaling and the People Behind It" to be published by Routledge.
The seminar took place online via Zoom and was open to the public.
The event was a part of the Special Lecture and Discussion Series "Central Eurasian Studies in East Asia and Beyond",which consists of several seminars designed to highlight the most prominent findings and research studies in the field.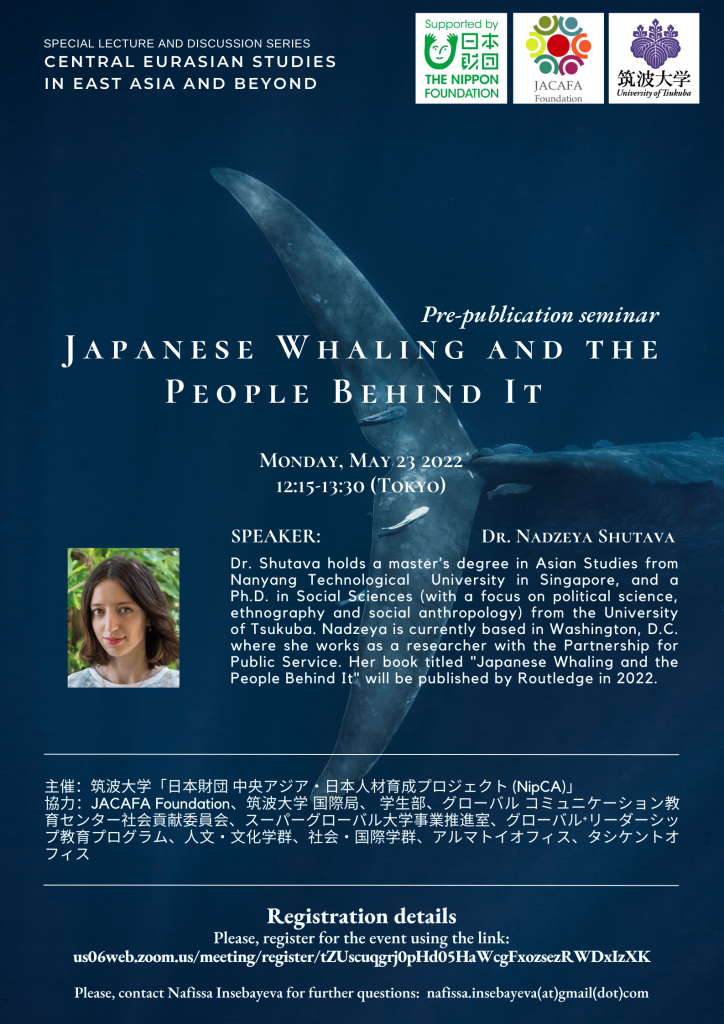 Professor Dadabaev (University of Tsukuba) opened the event by greeting the audience and inviting participants to attend the upcoming lectures to be held in June and July.
Dr. Shutava started her talk with explaining that academic and media coverage of Japanese whaling is dominated by expressive and predominantly negative narratives towards the practice. However, what remains unclear is what actors are behind Japanese whaling.
Understanding this problem Dr. Shutava was interested in covering the issue of whaling from the viewpoint of the Japanese people behind it, giving them control over the narrative about their own experiences.
The main res arch questions the book addresses are:
1. What characterizes the emic side of Japanese whaling?
2. How does the emic perspective on the Japanese whaling correlate with the etic perspective?
The seminar was a great opportunity for those interested in learning about Japanese whaling and the people involved in the practice.
The presentation was recorded and will be shared on the program's Youtube channel: https://www.youtube.com/channel/UCtgSe6atrw84WOQTyo4iUkA
The Lecture Series will continue with the next public seminar scheduled for June 20, 2022, at 12:15 PM (Tokyo).