On Monday, April 25th, 2022, the Nippon Foundation Central Asia-Japan Human Resource Development Project (NipCA) and the Special Program in Japanese and Eurasian Studies (University of Tsukuba) invited a University of Tsukuba alumnus, Dr. Bakhrom Radjabov to present his upcoming book titled "Social Innovations in Post-Soviet Countries" (Routledge, 2022).
The seminar took place online via Zoom and was open to the public. The event was a part of the Special Lecture and Discussion Series "Central Eurasian Studies in East Asia and Beyond", which consists of several seminars designed to highlight the most prominent findings and research studies in the field.
Professor Dadabaev (University of Tsukuba) opened the event by greeting the audience and inviting participants to attend the upcoming lectures to be held in May, June, and July.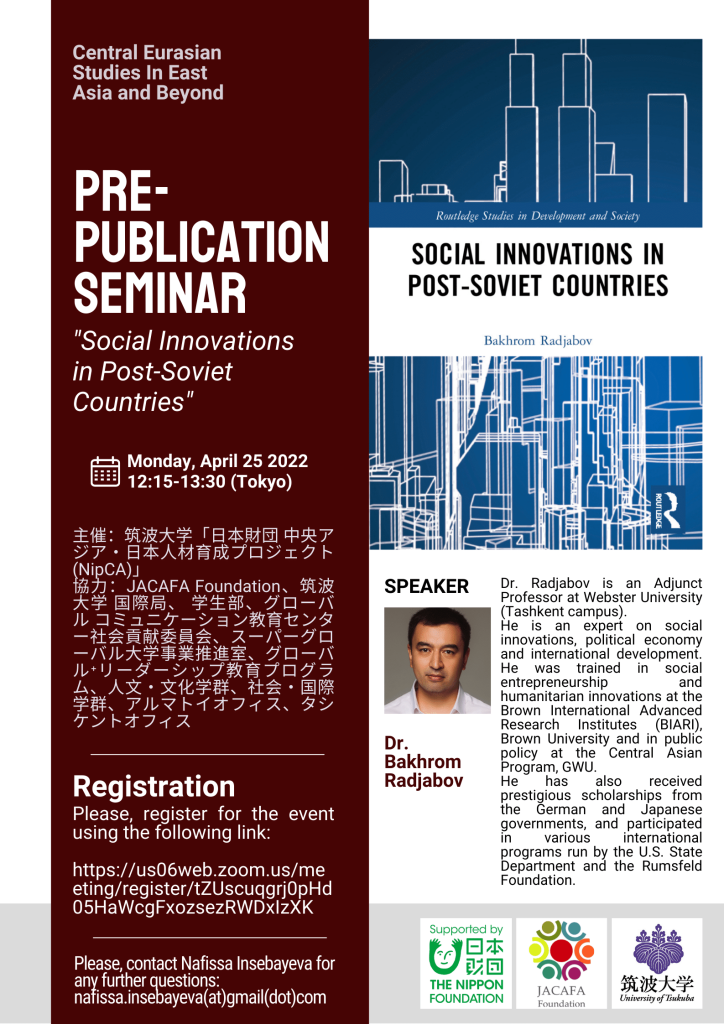 Dr. Radjabov started his lecture with introducing the background of his book, which was partially based on his doctoral thesis completed at the University of Tsukuba. The book consists of six chapters and focuses on social innovations in the nine post-Soviet countries of Central Asia, Caucasus, and Eastern Europe. The study aims to (a) evaluate social innovation projects (SIPs) implemented in the countries of interest from 2012 to 2020, (b) map organizations supporting SIPs, and (c) contribute to the body of knowledge about social innovation practices in the post-Soviet space.
As explained by Dr. Radjabov, the study found that international donors often purposefully frame development projects as SIPs to win government cooperation and support. He explained that, due to this, there was a risk of losing the meaning and potency of the social innovation concept in the post-Soviet countries. Dr. Radjabov also shared that one of the biggest challenges he faced was data collection during the pandemic.
The seminar was a great opportunity for those interested in learning about social innovation projects and their scalability.
The presentation was recorded and will be shared on the program's Youtube channel: https://www.youtube.com/channel/UCtgSe6atrw84WOQTyo4iUkA
The Lecture Series will continue with the next public seminar scheduled for May 23rd, 2022, at 12:15 PM (Tokyo).