On Monday, June 20th, 2022, the Nippon Foundation Central Asia-Japan Human Resource Development Project (NipCA) and the Special Program in Japanese and Eurasian Studies (University of Tsukuba) invited Dilnoza Ubaydullaeva (Australian National University) to give a talk titled "De-securitizing the Internationalization in Uzbekistan's Higher Education Policy."
The seminar took place online via Zoom and was open to the public. The event was a part of the Special Lecture and Discussion Series "Central Eurasian Studies in East Asia and Beyond", which consists of several seminars designed to highlight the most prominent findings and research studies in the field.
Professor Dadabaev (University of Tsukuba) opened the event by greeting the audience and inviting participants to attend the upcoming lecture to be held in July.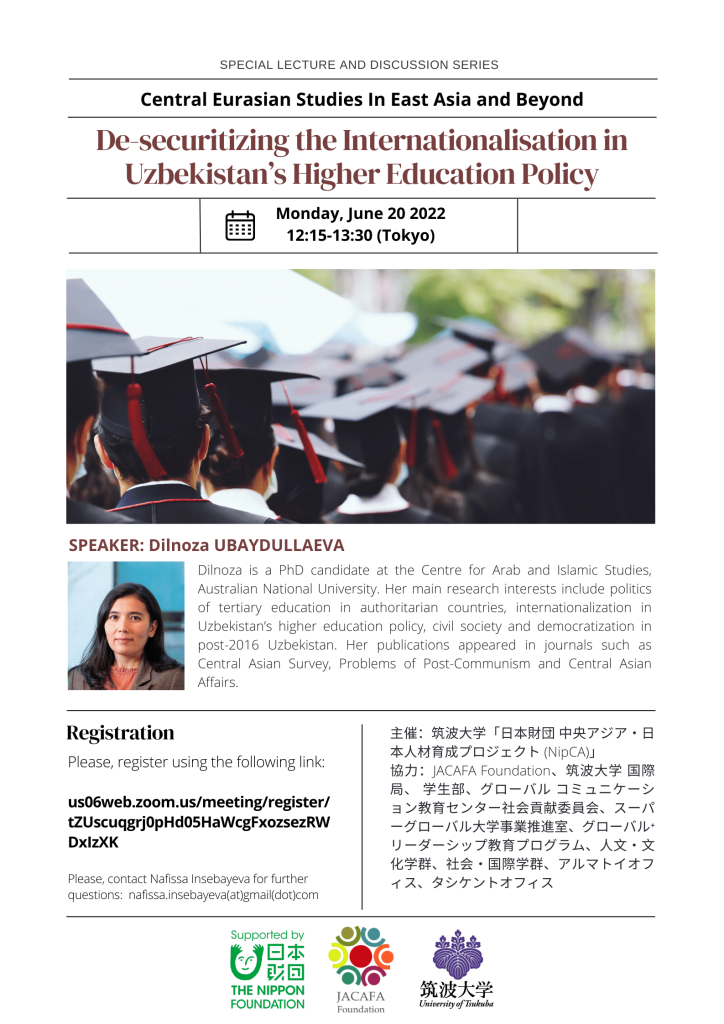 Ms. Ubaydullaeva started her talk by explaining that Uzbekistan has undergone significant reforms in the past five years. This includes some prominent changes in the education sector. Through her research, the author argues that during Mirziyoyev's presidency, internationalization of higher education in Uzbekistan got de-securitized. However, Ms. Ubaydullaeva suggests that while de-securitization is a positive move, there does not seem to be a clear higher education internationalization policy in the country. Ms. Ubaydullaeva emphasized that more coordination efforts are needed to ensure a clear development path towards better educational outcomes.
Given the importance of education in development, the seminar was a great opportunity to e
xplore the current state of affairs in Uzbekistan's higher education, which has some interesting implications. The Q&A session was very interactive, and the audience had a chance to ask the speaker many questions regarding the future of Uzbekistan's higher education.
The presentation was recorded and will be shared on the program's Youtube channel:
https://www.youtube.com/channel/UCtgSe6atrw84WOQTyo4iUkA
The Lecture Series will continue with the next public seminar scheduled for June 20, 2022, at 12:15 PM (Tokyo).