On Monday, July 25th, 2022, the Nippon Foundation Central Asia-Japan Human Resource Development Project (NipCA) and the Special Program in Japanese and Eurasian Studies (University of Tsukuba) hosted Dr. Mariam Bibilashvili (University of Tsukuba) to give a presentation about her upcoming book titled "Towards the 'Normal' State: Georgian Foreign Policy between Russia and the West," to be published by Palgrave Macmillan.
The seminar took place online via Zoom and was open to the public. The event was a part of the Special Lecture and Discussion Series "Central Eurasian Studies in East Asia and Beyond", which consists of several seminars designed to highlight the most prominent findings and research studies in the field.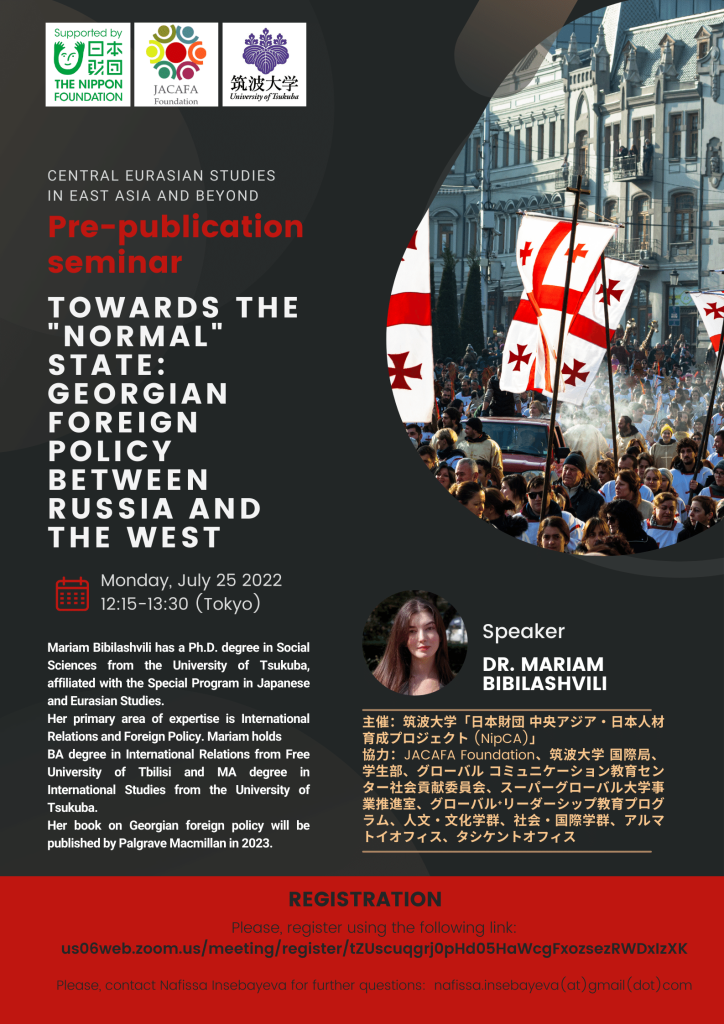 The event was moderated by Professor Dadabaev (University of Tsukuba), who greeted the audience and encouraged everyone to revisit the past lectures, which are available on Youtube.
Dr. Bibilashvili started her presentation by announcing her upcoming book, which is based on her doctoral dissertation submitted to the University of Tsukuba and is scheduled to be published by Palgrave this fall. As explained by Dr. Bibilashvili this book contributed to the field of International Relations by offering a unique historical reading to the Georgian foreign policy and emphasizing the role of sentiments in its construction. Moreover, the study questions the supremacy of Western ideals and the Western-centric ahistorical nature of the mainstream IR theories. Dr. Bibilashvili also discussed the limitations of the current work, which is primarily focused on the official leading narratives produced by the state leadership. Therefore, the author encouraged further exploration of the topic through covering all competing narratives existing in a wider political discourse.
The presentation was recorded and will be shared on the program's Youtube channel: https://www.youtube.com/channel/UCtgSe6atrw84WOQTyo4iUkA
The Lecture Series will resume in Fall, please, follow the program's announcements for more information on upcoming events.