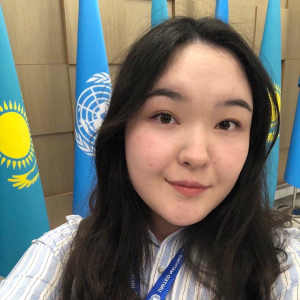 My name is Bekbossynova Aruzhan and I am from Kazakhstan. I graduated from Narxoz University with a bachelor degree in Economics and Management majoring in World Economy.
During my studies, I was an active participant of MUN conferences and worked at Sustainable Kazakhstan Research Institute and therefore got interested in International Relations and Sustainable Development. This interest drove me into Internship at UNESCO Almaty Cluster Office for Kazakhstan, Kyrgyzstan, Tajikistan and Uzbekistan, where I worked as a Youth Programme Assistant in the Social and Human Sciences Sector.
To further investigate the experience and the SDGs agenda in Central Asia, I joined the Special Program in Japanese and Eurasian Studies at the University of Tsukuba. The program offers a wide range of courses, with a focus on Sustainable Development and Public Policy, which will deepen my knowledge and skillset and allow me to remarkably contribute to the fields of sustainable development and education policy in Central Asia. I am looking forward to the upcoming seminars and trips to explore Japanese sustainability practices, and I am grateful for this opportunity provided by the Nippon Foundation.