Muratbekova Aigerim
Hokkaido is one of the largest islands in Japan. It attracts tourists from all around the world with its beautiful ski resorts and natural hot springs (onsen).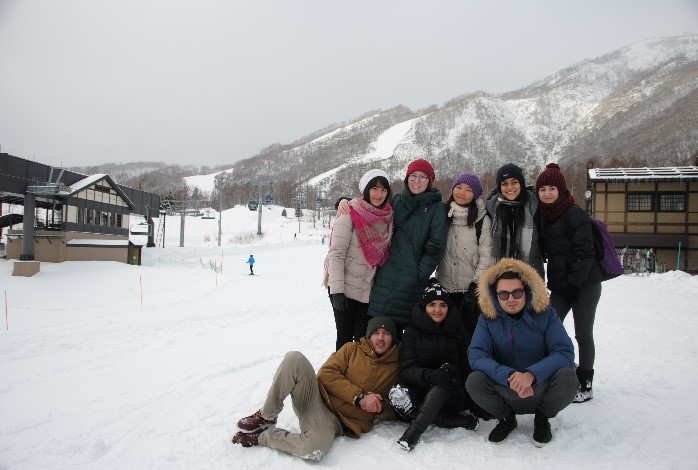 During our short study trip to Hokkaido, we visited several famous touristic destinations. One of them was Niseko. As well as, we got acquainted with activities that ordinary people, entrepreneurs and government of Niseko Town are doing in promoting and creating sustainable town development. This is actually what struck me the most about the people of Niseko. They have a great desire and willingness in helping the government of Niseko to achieve SDGs. The interesting fact about Niseko is that it is an area name used to refer to three beautiful towns: Niseko, Kutchan, and Rankoshi. Likewise, this area is comprised of four well known interlinked ski resorts on Mountain Annupuri (1308 meter) and these ski resorts called Niseko United: Niseko Annupuri, Niseko Village, Grand Hirafu, and Hanazono.
Every year Niseko attracts thousands of ski and snowboard lovers all over the world with its incredible ski resorts and impressive powder snow. The very powder snow draws plenty of tourists to Niseko. The peculiarity of snow in Niseko is that it has very little water precipitation and because of that it is very fluffy and light. In fact, the biggest driver for tourism in Niseko is powder snow. Since not all countries around the world have snow or powder snow, many people come to Niseko with their families and friends to enjoy a big amount of snow, spend quality time and make new friends.
According to a tourism consultant based in Niseko, Paul Haggart, this area has grown so much from Word of Mouth. People come to Niseko, enjoy it and tell their friends and recommend this place.
Throughout this study trip, we had a chance to visit Grand Hirafu – one of the most famous and biggest ski resorts in Niseko town. This place charms with its beauty and leaves you speechless. Grand Hirafu ski resort has a fabulous atmosphere and creates a feeling that you are in a fairy tale. This place allows visitors to feel themselves at a distance from the city bustle and take delight with its ethereal beauty. What is more, the night lights in Grand Hirafu ski resort give a marvelous view. Besides, it provides a wide range of accommodations, restaurants, and shops making the stay in this ski resort very comfortable. What makes it even more convenient is that most of the staff could speak English. Also, it provides a high-grade and excellent service thereby making the guests gain an unforgettable experience in Japan. All in all, Japan is so much famous for its good service in any field.
In my home country, Kyrgyzstan, there are several beautiful ski resorts as well. One of the most famous ones is in Karakol. Karakol is the fourth largest city in Kyrgyzstan and the administrative capital of the Issyk Kul region. In Soviet times, Karakol was a place of training where sportsmen get themselves ready for the Olympic Games. Nowadays, it is not only a training place but a place of rest where people come together with their families to enjoy the winter season and have fun. It is a perfect place for those who love and look for active at the same time a very funny type of rest. Wintertime in Karakol is a paradise for ski and snowboard lovers. In addition to it, Karakol ski base is like a bridge to the region's nature, cuisine and culture. Gradually, ski resort tourism is developing and attracting a lot of people not only from Kyrgyzstan but outside of it as well.
These two cities, Niseko and Karakol, are strategic places for economic development. Both of them could and actually already attract many tourists with their astonishing ski resorts and breathtaking winter. The amazing thing about these two cities is that people could come and enjoy their stay not only during the winter season but throughout the year. Since both cities are mountainous, it is a good place for hiking. Hiking is the best way to experience the natural beauty of Niseko and Karakol in the summertime.  During the summertime, these are good destinations for those who love hiking so much.
Besides hiking, Niseko offers a bunch of different activities such as stand-up paddleboarding, rafting, sea kayaking, canyoning, Hanazono tree-trekking, segway tours and ocean fishing charter.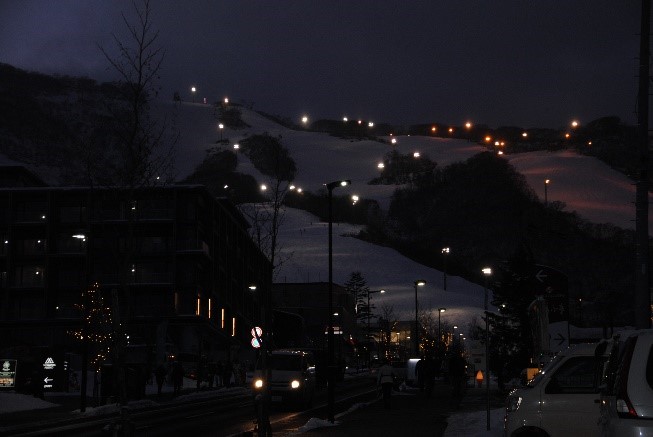 Karakol provides various activities for the summertime too. Visitors could go to the Issyk Kul lake known as pearl of Kyrgyzstan, swim and get a suntan. As well as they could enjoy horse-riding tours, fishing and mountain trekking. It is also a good option for those who are looking for health-improving rest. Moreover, there is a "kumysolechenie" (horse milk treatment) which is very good for health
If you'd like to have an amazing holiday and unforgettable memories, I would recommend Niseko and Karakol cities.