On Friday, November 6, 2020, University of Tsukuba's "Nippon Foundation Central Asia and Japan Human Resource Development Project" (NIPCA) invited Dr. Yoichi Ochiai, an associate professor of Faculty of Library, Information and Media Science, University of Tsukuba who is serving as a Director of R&D Center for Digital Nature, and held the "Second Special Online Lecture for Freshmen of University of Tsukuba". This lecture was co-provided by Global Commons, Center for Education of Global Communication, Top Global University Project Office with the cooperation of Department of Student Affairs and Office of Global Initiatives.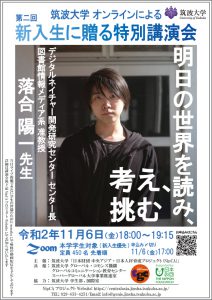 An unprecedented number of 256 participants viewed this lecture from home or campus hall, where measures were taken for Corona. This lecture provided opportunities not only for students but also for faculty members to participate in the AY 2020 SD Seminar.
While picking up the responses of the participants in the chat column, Dr. Ochiai talked to the freshmen about the various aspects, while talking the experience of Dr. Ochiai himself. In the title of "Reading, thinking, and defying tomorrow's world," Dr. Ochiai introduced his own methodology to help students deepen their learning from the wisdom of the university in the process of shifting from With-corona to Post-corona society. Lastly, Dr. Ochiai spoke about the view that since the number of online classes and the availability of tools and resources are increasing in the modern era, we have a high degree of freedom, and that we should take advantage of it.
At the end the Q & A session was given, and students other than freshmen also asked many questions about various areas. Dr. Ochiai answered the freshmen's questions promptly though time exceeded. Although it was online, it was a very exciting and fruitful lecture for new students and other students.
This lecture scene was broadcast on Manaba until Monday, November 23.