On November 30, 2020, Dr. Hiroko Sawada, Associate Professor of Faculty of Humanities and Social Sciences, University of Tsukuba, was invited as the lecturer of 16th of the public lecture series "Central Eurasia and the Future of Japan", and gave a lecture titled "Support for Japanese Language Education for Foreign Students in Tsukuba City: Looking Ahead to the Present Situation, Issues, and Post-Corona."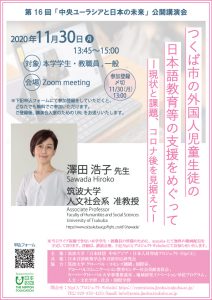 This lecture was hosted by the "Japan Foundation Central Asia-Japan Human Resource Development Project" (NipCA) of University of Tsukuba and co-organized with the multi-language study group of the Japan Language Policy Association.
Dr. Sawada mentioned the current situation of foreign students, taking up the actual case of an elementary school in Tsukuba City. The challenges that occur due to various factors such as language barriers and cultural and religious differences, the need for teachers with expertise to respond to them, and examples of the Japanese teaching process was clearly shown. Regarding those issues, she also spoke on the role of universities to develop human resources through internship dispatch and online education support, and gave interesting advice on the possibilities of future university education. Finally, she showed an online support system that looked ahead to post-Corona, and the story was concluded with a view toward the future.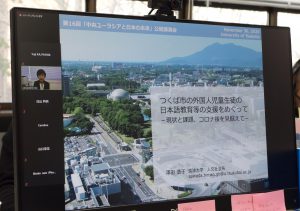 In this lecture, nearly 70 students, faculty, staff and citizens sat for the lecture, and a lot of questions were asked during the Q & A session after the performance. The lecture lasted for an hour and a half, but there was a lively discussion to the end, and the the listeners showed a high level of interest.
This lecture scene was broadcast on Manaba from Thursday, December 3 to Sunday, December 14.