On Monday, February 14, 2022, the Nippon Foundation Central Asia-Japan Human Resource Development Project (NipCA) and the Special Program in Japanese and Eurasian Studies (University of Tsukuba) invited a pioneering scholar of Central Asia in Japan – Professor Tomohiko Uyama (Hokkaido University) as a guest speaker. Professor Uyama's lecture was titled "How to make the international community of Central Asian studies coherent? Overcoming the gap between Western-centrism and nationalism."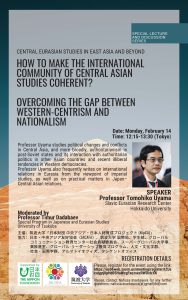 The seminar took place online via Zoom and was open to the public. The event was a part of the Special Lecture and Discussion Series "Central Eurasian Studies in East Asia and Beyond", which consists of several seminars designed to highlight the most prominent findings and research studies in the field.
Professor Dadabaev (University of Tsukuba), who moderated the session, opened the event by honoring the memory of a distinguished Japanese scholar, Dr. Natsuko Oka. Dr. Oka left a valuable legacy as both a friend and a researcher, and the academic community will continue to cherish her significant contribution to the field of Central Asian studies.
After thanking the audience for joining the public seminar and inviting the participants to attend the future talks to be held in February and March, Professor Dadabaev gave the floor to Professor Uyama.
Professor Uyama started his lecture with a summary of his research background and his connection to the region, which dates to the 1990s. The seminar proceeded with the discussion of the discrepancies in research approaches between Central Asian and Western scholars. Professor Uyama then highlighted the crisis of area studies and academic freedom and explained that a possible solution to these issues is to develop Central Asian studies through a dialogue between Western and Central Asian scholars.
During the Q&A session, Professor Uyama was asked many questions about the future of Central Asian studies and the current trends in the academic field. Professor Uyama provided detailed and clear answers to all questions.
The seminar was a great opportunity for everyone interested in Central Eurasian studies to exchange ideas with one of the distinguished Japanese scholars on Central Asia. The presentation was recorded and will be shared on the program's Youtube channel:
https://www.youtube.com/channel/UCtgSe6atrw84WOQTyo4iUkA.
The Lecture Series will continue with the next public seminar scheduled for February 21st at 12:15 PM (Tokyo).