On Thursday, February 17, 2022, the 4th special lecture and discussion in the series "The Road to Digital Transformation to Change Society" was held. Our invited speaker was ABE Haraya, Ph.D., a researcher at the Automated Driving Division of the Japan Automobile Research Institute (JARI) and professor at the University of Tsukuba. Professor Abe gave a lecture on "Human Factors Research for the Prevention of Traffic Accidents and the Introduction of Automated Driving," followed by a discussion among the participants.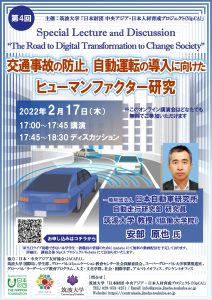 As an expert in cognitive systems development, Professor Abe conducts research at the Japan Automotive Research Institute to study human factors in driver assistance systems and automated driving systems for driver safety. Professor Abe discussed his research on human factors in automated driving in this lecture.
In recent years, the number of deaths in traffic accidents has decreased. Still, the proportion of older adults killed in traffic crashes is increasing annually, which makes preventing such accidents involving older persons one of the most pressing issues. Traffic accident cases involving older adults (aged 75 and older) are mostly a consequence of improper vehicle operation.
The thought processes and actions associated with driving include:
Cognition (noticing pedestrians and vehicles).
Judgment (assessing the crash risk).
Control (steering wheel and brake control).
Driver assistance systems have been developed to help drivers avoid accidents. However, research on systems alone is not enough, as humans are primarily responsible for driving the car. Therefore, it is necessary to study the "human factor," which is "the practical study of the human capabilities, limitations, and characteristics necessary for operations and systems to work safely and efficiently." Thus, it is about the trinity of humans, vehicles, and the environment, adding human characteristics to the design, such as how people use systems and behave under different conditions.
Human factors research is necessary not only for the safe operation of widely used driver assistance systems in practice but also for the safety of drivers in "automatic driving," in which humans are not driving in principle. We need to know more about humans to organically link human consciousness and behavior to machine behavior and ensure safe driving.
During the discussion that followed the lecture, there were many questions and comments about the benefits that automated driving will bring to society and the potential for new services when automated driving is introduced into the daily life of society.
This lecture allowed each participant to think about the technical aspects of automated driving and the future lifestyle it will bring.
This lecture will be available on the Manaba platform from February 17, 2022, to February 27, 2022.