On Monday, February 21, 2022, the Nippon Foundation Central Asia-Japan Human Resource Development Project (NipCA) and the Special Program in Japanese and Eurasian Studies (University of Tsukuba) invited an established Japanese scholar Professor Shigeto Sonoda (University of Tokyo). Professor Sonoda's lecture was titled "Central Eurasian Views of East Asia: Findings from Asian Student Survey 2018".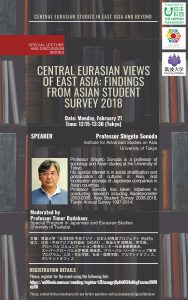 The seminar took place online via Zoom and was open to the public. The event was a part of the Special Lecture and Discussion Series "Central Eurasian Studies in East Asia and Beyond", which consists of several seminars designed to highlight the most prominent findings and research studies in the field.
Professor Dadabaev (University of Tsukuba), who moderated the session, opened the event by greeting the audience and inviting participants to attend the upcoming lectures and roundtables to be held in March. After introducing Professor Sonoda and his outstanding research achievements, Professor Dadabaev gave the floor to the speaker.
Professor Sonoda started his lecture with an explanation of the concept of "national sentiments" and its role in international relations. Professor Sonoda highlighted the contribution of constructivist scholars to our understanding of international actors and their behaviors and emphasized the importance of interdisciplinary approach to research. The seminar continued with the introduction of the Central Asia Barometer (2012-) and the discussion of the advantages of the Asian Student Survey (Third Wave), which provides a wider coverage of (Asian) countries. Professor Sonoda concluded his lecture with presenting the findings of his study conducted in Uzbekistan and Kazakhstan.
During the Q&A session, the audience asked Professor Sonoda many questions about conducting sociological research in different political and socio-cultural contexts and applying various methodological tools to ensure the validity of data. Professor Sonoda provided interesting and clear answers to all questions.
The seminar was a great opportunity for the participants to learn about some of the findings from Professor Sonoda's remarkable study. The presentation was recorded and will be shared on the program's Youtube channel: https://www.youtube.com/channel/UCtgSe6atrw84WOQTyo4iUkA.
The Lecture Series will continue with the next public seminar scheduled for March 7th at 12:15 PM (Tokyo).