Bekbossynova Aruzhan
The Japanese Corporation Internship I program took place from 19th to 22nd July 2023, providing a unique and enriching experience for second-year International Public Policy master's degree students. This exclusive course was specially designed for the fellows of NipCA Foundation Scholarship, offering them valuable insights into the  best sustainability practices in Hokkaido prefecture. 
During the internship, we visited Niseko High School located in Niseko Town. Niseko Niseko Town stands out as a captivating highlight of our study tour, renowned for its exceptional contributions to sustainable tourism. Beyond its captivating natural beauty, this charming town has established itself as a best example of responsible travel practices, making it a truly remarkable city. 
An integral part of Niseko Town's sustainability efforts is its deep-rooted connection to local culture and traditions. Farmers' markets showcase the bounty of the land, promoting the consumption of locally grown produce and reducing the carbon footprint associated with food transportation.  Niseko Town's status as a tourism gem in Hokkaido is elevated by its unwavering commitment to sustainability. As we reflect on our study tour, the lessons learned from Niseko Town's sustainable practices inspire us to champion responsible tourism and treasure our world's wonders in ways that are both impactful and enduring. 
The Hokkaido Niseko High School left a profound impression on us during our study tour, serving as a compelling example of how local education can nurture future industry leaders. This exceptional institution features two distinct departments catering to students' individual interests: Agriculture and Tourism. 
Within the Tourism department, students not only acquire proficiency in foreign languages but also have the unique opportunity to embark on international internships within foreign hotels. This hands-on experience is further enhanced through close collaboration with local hotels in Hokkaido, offering students a holistic understanding of the hospitality sector. Conversely, the Agriculture department equips students with practical skills in cultivating fruits and vegetables, a skillset that they put into practice by selling their produce at the Michi-no-Eki store. 
What truly stands out is the emphasis on the immediate applicability of acquired skills in their hometown. This intersection of learning and practical implementation underscores the school's dedication to equipping students for real-world challenges, which aligns with Niseko's commitment to sustainability and practical engagement. 
During our visit to Niseko High School, we also had the privilege of engaging in a cultural exchange with the High School students and even had school lunch together. Sharing insights about our respective countries enriched our understanding of global perspectives. Since my hometown is Almaty, Kazakhstan, I found common ground with the students by discussing the renowned Shymbulak Ski Resort and other popular winter sports in my region. This exchange not only fostered connections but also reinforced the notion that education extends beyond classrooms, transcending borders and cultures.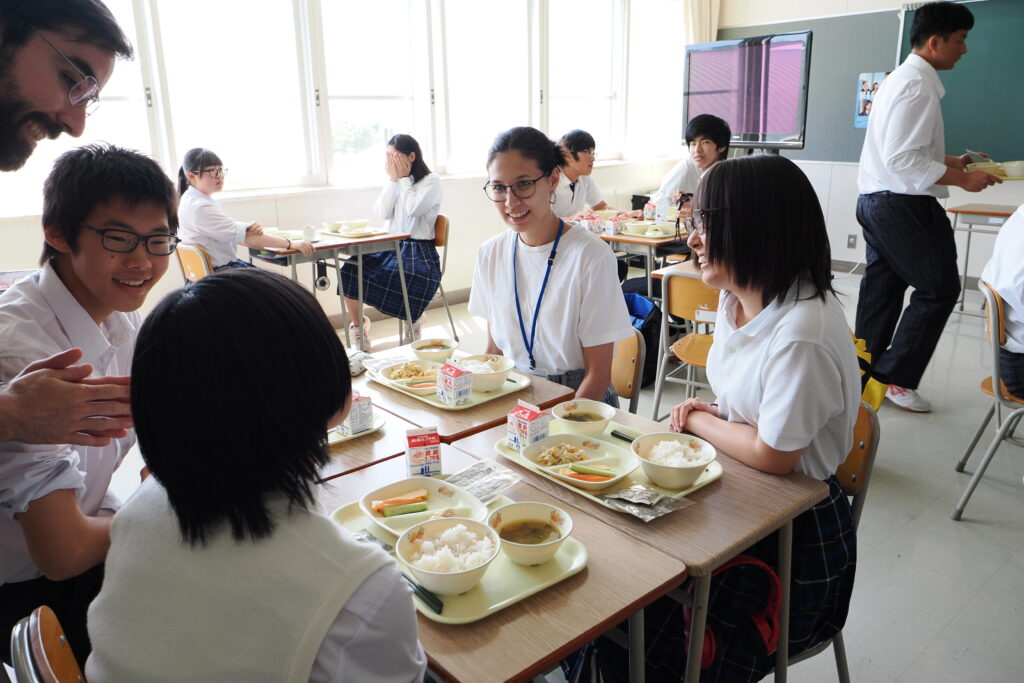 Following our engaging experience at Niseko High School, our exploration continued with an enlightening lecture by Ms. Ayaka SASAKI from Niseko-machi. The topic of her presentation, "Building a City of the Future: Challenge of Niseko Town," drew our attention to the innovative strides Niseko is taking to enhance housing options within the region. 
The lecture  insights shed light on the town's forward-looking initiatives aimed at making housing in Niseko more convenient and conducive to modern lifestyles. As we delved into her discussion, it became evident that Niseko is not only a hub for tourism and education but is also committed to fostering sustainable growth and improving the quality of life for its residents. 
In essence, the Hokkaido Niseko High School epitomizes an educational paradigm that bridges theory and practice, empowering students with both knowledge and skills relevant to their chosen industries. This institution's forward-thinking approach serves as an inspiring reminder of the value of experiential learning, mirroring the holistic ethos of Niseko and its deep-rooted connection to culture and sustainability. Our visit to the high school not only provided fresh insights but also solidified the importance of bridging academic pursuits with practical applications in fostering well-rounded industry leaders. 
Throughout the internship program, the we were exposed to the best practices in sustainable tourism and farming in Hokkaido prefecture, learning from high school students, highly-skilled professionals and government officials. This experience not only broadened our academic horizons but also allowed us to witness firsthand the positive impact of sustainable practices on local communities and the environment.