The 37th Public Lecture, "The Future of Central Eurasia and Japan," was held on Friday, November 4, 2022. The guest speaker, Dr. Akihiro Nishio, advisor to the WHO Western Pacific Office, gave a lecture titled "What is Global Mental Health."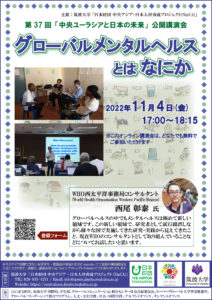 In addition to his work as a psychiatrist, Dr. Nishio has conducted research in the field of mental health at workplace, gambling addiction, and other areas concerning mental health in developing countries at Fujita Medical University, Gifu University, and Ryukyu University, among others. Since July 2022, he has been working in the Philippines as an advisor for the WHO Western Pacific Office.
At the beginning of the speech he talked about his work experiences in Japan and abroad, including Kenya, Gambia, Thailand, Cambodia, Laos, the Philippines, India, and the United States, to improve mental health support in developing countries. In the Philippines, the project helped raise people's awareness of mental health by producing textbooks designed to introduce mental health education in schools. In addition, using his knowledge as a mental health specialist, Dr. Nishio has been engaged in several programs on suicide prevention, binge drinking disorder, homelessness programs, refugee programs, and employment support programs for people with disabilities.
The initial goal of global health care is not to help an individual who needs medical assistance, but to create a system that makes health care accessible to all. According to Dr. Nishio, the most important step in achieving this goal is to improve local medical facilities and help establish professional communication between them. He also spoke about the current problems in improving mental health care in Cambodia, including patients' ability to pay and the difficulties in connecting patients to health centers in developing countries due to the lack of developed medical facilities.
During the lecture, he raised the important question of why mental health is not improving in developing countries and what the benchmarks should be used to promote mental health care in the future. There are few psychiatrists and mental health projects implemented by international organizations or foreign countries in developing countries. If we try to analyze the situation with the example of JICA, the Japanese International Cooperation Agency, we will find that one of the main problems is neglectance of mental health in general. Even in WHO, the department of mental health is very small, which makes it clear that the importance of mental health is underestimated at the international level.
Dr. Nishio also pointed out that the low psychiatric referrals and the lack of a proper tool for evaluating mental health care projects are the reasons for the neglect of mental health care in general. Therefore, to raise awareness of the importance of mental health and create a better society for people with mental disorders, we need the following:
(1) Psychiatric referrals at an early stage of psychosis.
(2) Less prejudice against people with mentally issues.
(3) Continuation of psychiatric referrals even at the stage of severe psychosis.
(4) Opportunities for patients with psychosis to play an active role in society.
It is necessary to use these 4 points as an indicator to evaluate the development of mental health.
After the lecture, many questions were asked about the relationship between the medical system, ethnic and regional characteristics of each country, and regulations on mental health issues in global health care and their impact on mental health care in developing countries. Dr. Nishio, as an advisor to the WHO Western Pacific Office, answered the questions from the perspective of international standards, drawing on his extensive experience working with developing countries. It was a valuable lecture with much to learn about the emerging academic field of global mental health.