Geldiyeva Mivegozel
Kutchan is the capital of Shiribeshi Subprefecture of Hokkaido Prefecture, Japan. As of March 2017, the population of the town is 15,389. Kutchan has an area of 261,34 km2 and lies near the volcano Mount Yotei also known as Ezo-Fuji. Kutchan is well known for the production of danshaku potatoes in Japan. In addition, it is located near the famous Niseko powder snow region.
As Kutchan town has experienced the development of tourism activities in recent years, it is generating more waste than before. An increasing quantity of different types of waste requires new solutions to make waste management sustainable and appropriate for local communities. This need for sustainable waste management is reflected in the development of various environmentally friendly initiatives such as transforming combustibles into solid fuels in Kotohira Recycling Center of Niseko Environment Co., Ltd. We were given the opportunity to visit this center and learn more about sustainable development in the solid waste management sector.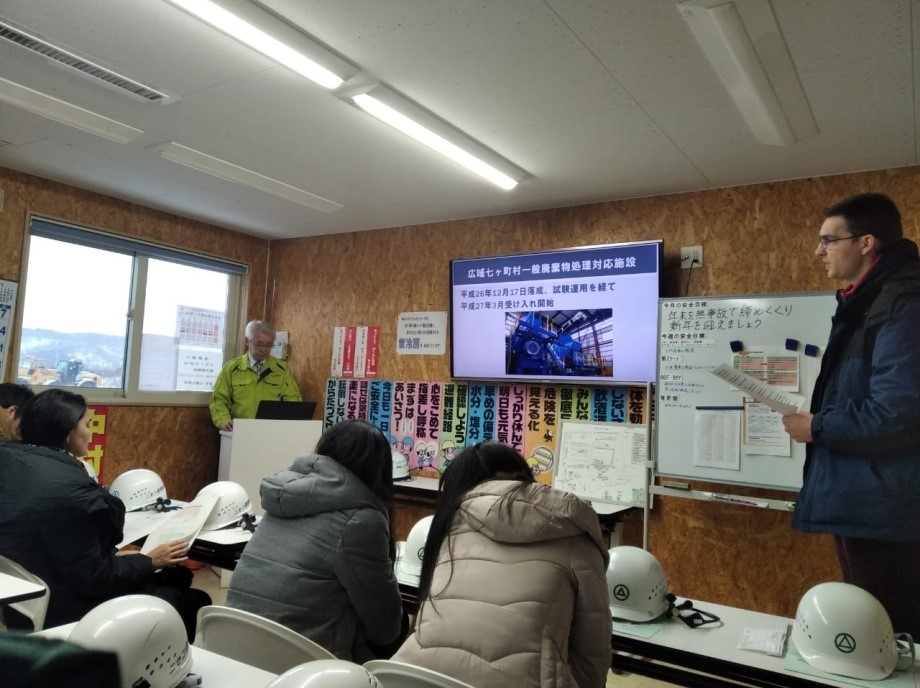 Kotohira Recycling Center has several facilities which allow to process the treatment of household waste from seven municipalities: Kyogoku, Kimobetsu, Rusutsu, Makkari, Niseko, Kutchan, Rankoshi. The main portion of waste which is treated in the center comes from Kutchan and Niseko (Diagram 1).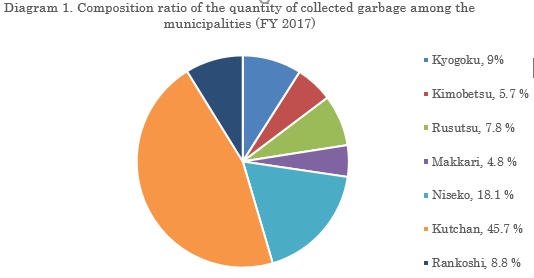 The construction of the solid fuel facility for combustible materials from this wide area was completed in December 2014 and it has been operating since March 2015. It mainly processes general waste generated by households while industrial waste is treated and disposed at a separate facility. According to materials provided during the lecture, the treatment quantity of household combustible waste from this area is about 4,500 tons with an average of 375 tons per month and an average of 15 tons per day.
Since not all types of combustible household waste are suitable for being transformed into solid fuels, only around 60% of this combustible waste can be processed into the solid fuel treatment system. Combustible waste which is suitable for producing solid fuels includes paper-based, plastic-based, wood-based garbage, textile, rubber, leather, and others (Table 1).

The overall production of solid fuels is around 3,200 tons, including 400 tons of refuse-derived fuel. Solid fuel produced from these products has a calorific value of about 4,800 – 5,400 calories. In comparison, the calorific values of coal and coke are respectively 7,000 and 7,200 calories. Prepared for use solid fuels are sold to paper companies and heating companies such as Oji Paper Company, Nippon Paper Industries, Hokkaido District Heating Co., Ltd.
Tomakomai plant of Oji Paper Company is utilizing combustible solid fuel for 50% of the boiler fuel. The other 50% of fuel consists of coal, scrapped tires and leftover scraps of construction work. The utilization of combustible solid fuel on facilities of Hokkaido District Heating Co., Ltd. is even higher – about 60%. Yufutsu Plant of Nippon Paper Industries company still uses coal as the main fuel (96%) and the level of utilization of combustible solid fuel is only 4%.
During our visit to this center, I had a chance to gain a better understanding of the aims and benefits of the recycling initiatives in Japan. First of all, the transformation of waste into solid fuels aims at introducing alternative ways for waste treatment rather than producing and selling solid fuels. It means that on a current level of development the solid fuel injection method is considered to be optimal because it helps to reduce the amount of garbage for "burning" and "landfilling". Environmental benefits from using this way of waste treatment include the suppression of greenhouse gas emissions and the reduction of fossil fuels. This initiative on making solid fuel from waste also has economic significance since it reduces facility equipment and operating expense. Another method of waste treatment may replace solid fuel injection in the future as making solid fuels is not a primary goal of waste treatment in Japan.
Moreover, awareness of the residents about the issue of garbage separation and waste collection has been raised over a long period through different means, including lectures at local elementary and junior high schools. Fostering interest in recycling waste begins from childhood and allows learning principles of separation for reusable and non-reusable materials. Thus, another prioritized aim of this kind of initiative is forming a recycling-oriented society that contributes to sustainable waste management at the local level by classifying and separating garbage generated in individual households of Kutchan. On the other hand, raw garbage discharged at the foot of Mount Yotei after being sorted and composted is distributed to residents of Kutchan free of charge.
I was impressed by how the local government and private sectors of this region are actively promoting sustainable development goals and every single element of the sustainable development beginning from the simplest to the most complex issues are taken into account.